I got the key words viscous, revenge, and blood. I'm betting that I'm far off, but eh, I tried, lol!
I have the impression of suppressed anger,or other dynamic emotions or energy.
The water triangle surrounding Thagirion downward via kundalini. Undesirable elements dangle toward death.
Everyone keeps pointing out Death…
Interesting anything else?
I see a glow at the top resembling Gemini
That's just a candle to keep it charged
but other than death anything else?
Watery … Moon crescents, Neptune, water triangle.
In the center sun planetary symbol, maybe from this i have a little feeling of light, but it is like at the end of the tunnel- along the way from it to us is darkness.
It feels like a mix of a portal, your godform sigil, and elements of wealth and boosting your intuition perhaps? I don't get death, rather a push for growth.
Feel anything Daemonic or Qlippothic
And yea your right about the inuition!
Definitely Qlippothic if I'm going on style. Hint of Naamah.
Don't know what feeling is demonic or Qlippothic- never worked whit. And i rarely feel something.
Give the qlippoth a shot.
I will try for some time with demons, but don't feel attracted to qlippoth. You think smoke made from deep darkness is qlippothic?
Just realized how similar Satan is to this sigil I made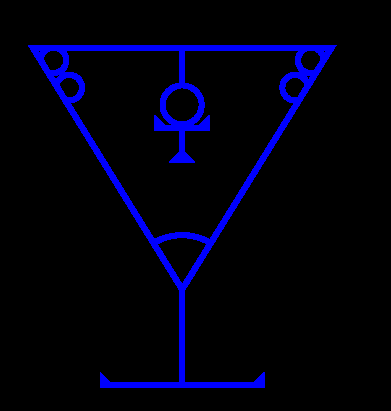 Looks like a variant of belials sigil.
This feel like water in black cave