Heya everyone! I'm here to tell my possible success into contacting Lucifer, I'm trying to not have doubts but I'm sure I got something while meditating. I did a simple altar where I put some amulets which I thought would be related to Lucifer, drew the sigil and lit some incense I had. I got into a semi-trance state while chanting his name and focusing on his sigil that was right in front of me after saying what my request was out loud. After a while, I felt a really strong presence near my right side and my ear started buzzing (I don't know how to explain, but lets say electricity, which happens often when I feel something in the room) and certainty came to my mind after I closed my eyes and saw his sigil in red while I had my eyes closed. I began to catch some words that would come randomly into my mind, one of them being "serpent" (which was the symbol of one of the amulets in the altar) and "Saturn and Jupiter". After trying to talk more and failing (I'm really, really closed spiritually yet) I decided to find him some other time to try again. That being said, I asked him to come to me in a dream. After the ritual some weird synchronicity happened and I was sure he heard me.
And yes, I just woke up from a dream I had with him, full of symbolism and while I can remember some of the things he said, the remaining is a blur. He basically said "not everything you will see here will have a pretty picture, be prepared to see some ugly things that will make you have fear for your life, although they won't harm you in any way. " and a strange drawing of a creature with elf ears with a white ball in his mouth came into my mind.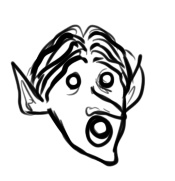 I tried to reproduce the drawing the best I could, this is almost the exact same figure I saw. I'm pretty sure Lucifer showed me some other pictures while talking about some other things that I don't remember but I wish I could. I feel happy though!
Also, I want to ask if anyone here has deeper knowledge on Jupiter and Saturn too, since I don't know where to look. I did found some shallow information about it but I want to learn more in depth things.