Although we are all linked constantly to our main deities in one way or another, what are those magical items that you simply couldn't be without, whether in daily life or working/worship with your main spirit/god/goddess? What makes you feel that extra bit closer and why? Whether it's certain herbs, crystals, incense, tools or general items that you've charged and consecrated for specific reasons, what's the thing you couldn't be without?
Just thought this would be a fun and interesting thread to see what others must-haves are. I've planned entire rituals then called them off because I haven't been able to find a certain items, going crazy like "I can't give Lilith prosecco when she wants red wine! I wouldn't be able to show my face in hell again if I did" haha.
In my daily life I couldn't be without my Lilith necklaces and four of crystals (moonstone, lapis lazuli, jet and amethyst). They serve as constant reminders that Lilith is always there for me to direct, govern, protect and guide. They have also been cleansed, charged, consecrated and blessed by Lilith to always aid and assist me in communication with her.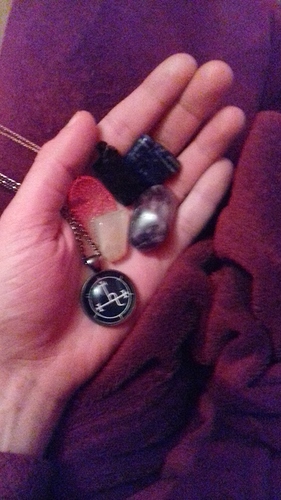 Who's your main spirit/entity/being you worship and work with? And what couldn't you simple be without!