I'm connecting with Sallos. I have his sigil, Sandlewood, many color candles. Anyone have suggestions to what he likes?
He likes people to use
SEARCH…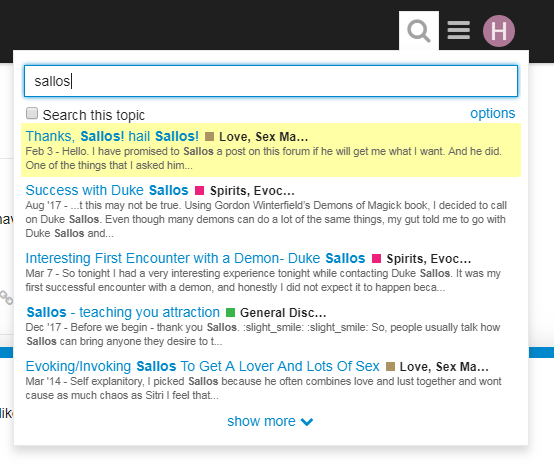 Thank you. I was just wondering of any new discoveries. I like to give spirits alcohol and tobacco.
HE LIKES TO TALK IN THE HOURS OF THE MORNING!!!
He kept trying to get me to talk to him but when I finally called him, he didn't show. Until he woke me up at 4 am and would not let me go back to sleep until I did certain things for him. He's done that to me Three times now and laughed about it. I will not be initiating things with him again

Did he work for you though? Get anything done?
Just respect and I love se crown royal. Never have been woken up in the night, and thankfully that's been the case or I'd also be upset. He's only done awesome for me! But everyone's different !
I'm sure he would have if I had continued to call him. His preferred time just seemed to be at 4 am I guess


It didn't work out.
I may have had a sign. The lady I'm talking to Sallos about, posted a random pic, of demon hands grabbing a lady from behind. She's uses this site to send messages. It's a long story. Could it be that she is feeling Sallos? The timing is weird, right after my first few consultations with him. She also hinted at other things that could be referring to my love too. I think she feels me. With Sallos.
He does defiantly do that! He had the girl I'm interested in have a picture of her hand in a crocodiles mouth with her kissing the air. I felt that was a huge sign. So the picture make me think he is !
Crown Royal and he really liked the honey Jack too. He likes his drinks.
Also, he does in fact have a crocodile with him and when I met him I made a mental note to offer some thing to his companion next time.
I thought about evoking him again. Just to offer some drinks, maybe a cigar. I don't want to disturb his work, just let him know I'm bringing offerings to him.
I don't think that he would mind that so king as you aren't checking up on the work. I leave gifts quite often to different entities as a show of friendship and gratitude.
booze, booze, and more booze. He loves to drink and to talk. He is the man!
Don't. Let him do what you asked and then pay him. Do not pay beforehand. Once you have established a relationship with him, then by all means call upon him to just offer a drink or whatever.
I'm bout to never forget! What does his companion like?
So what's your thoughts on random acts of offerings after asking for something? Is it an annoyance to give an offering as an act of friendship ? I just don't want to be caught up in giving offerings due to me not being patient and hoping it speeds it up. I have done that…
Your post is what made me think of that. What a coincidence!
Happy to say there are no coincidences

Once you have worked a spirit for a while and built up a relationship, then random acts of offerings is ok. I do it quite a bit, but this is only after working with said spirits for a while.
If you are giving extra offerings hoping that it will speed up the process, then that's different. It won't speed up the process and honestly it will make you look like a doormat. Why would a spirit want to do something for a specific payment when they know that you will cave and end up giving them more.
Thank you for that friend. I've been feeling that and always looking at my intention with all things. And part of me was foot in and out in trust if that makes sense , even though I know I unconsciously already do.