I'll post my shit and whatever I fancy in here. Probably music, thoughts, even useful rituals.
Why not feckers?
Today I offended someone because I was not enough (insert one of the countries I come from).
Apparently if you are mixed blood, you are appropriating other people's culture.
Da feck…
Quite frankly, fuck whoever first came up with that appropriation bullshit.
I didn't care. It just made me think about how easily offended people get nowadays…

It wasn't like that in my childhood.
Yeah, it seems to have happened after the turn of the millennia…or maybe the decade even. Its luckily pretty rare in Finland even now.
Nedeira Virmiah.

. Interesting conclusion.
Or is it Nereida Vimia? Hmmm
Its a legal term … ! The crime of theft is someone appropriating the property of another without permission (taking by appropriation the rights of ownership). Permission is no appropriation. Of course if a black person marries a white person and they breed the offspring is by consent and as such there couldn't possibly be any appropriation even if you tried to apply it in a legal sense, it would be impossible to make such an accusation even in a case of rape. Total insanity if not defamation and abuse - you should sue the individual that made such claims op if they ever published such nonsense. False accusation used to be a criminal offence - alluding to someone appropriating others culture is an allusion to theft as such a false accusation, unfortunately the courts don't prosecute such an offence although it is still on the books, certainly in Britain. Im afraid youll have to hope they publish the accusation and sue in civil court for damages for defamation.
J
Very happy with having established a close relationship with Belial.
I was never a charismatic person, but progressively I have become someone very different on my daily life. I feel that I can manipulate people, make them feel completely in love with my demeanour, and how amazing I am. It is surprising, because I never asked Belial to make me more charismatic, or to network or make more allies. It has just happened naturally.
I truly believe that when you work with an entity on a close manner, you get some of their qualities!
Glad your work with a spirit pays off
I think you're right, if you're working for a certain amount of time with a spirit its qualities rubs off on you at some point
It is very interesting how it happens!!!
Finally my package has arrived and I am deeply in love with everything! Not sure how to align my mala with the Draconian Current, but I will deffo check. Any advice is appreciated.
The cord (ideally) with be used to pray the 9 demons of the classic demonolatry (which includes also a Draconian Entity, Leviathan) , whereas the mala will be focused on my patrons and matron Lucifer, Belial, Lilith, and the Void itself.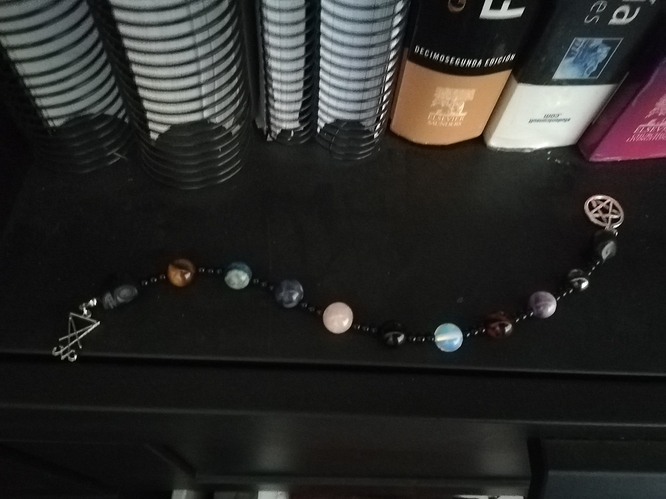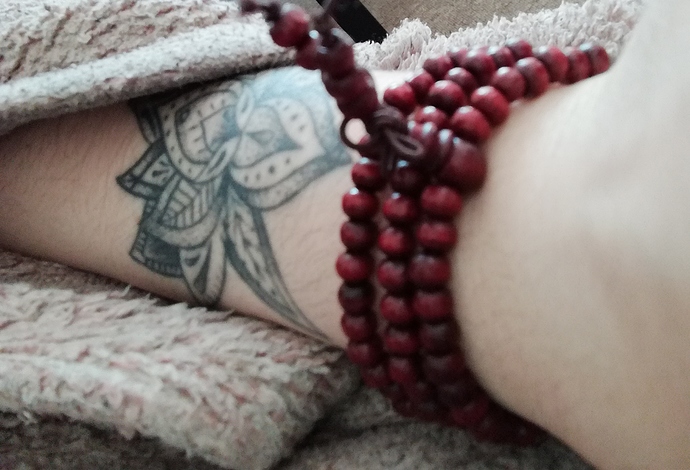 Very nice.
Thank you soooo muchhh!
Communing with Leviathan and connecting to the inner and outter Void can be peaceful and scary at the same time.
Also, working with primal fire is like being in a very hot bath, where you feel warm and nice, but if you don't learn how to control it, you end up with your skin all red and burnt. It changes all the pattern and structures within oneself and how one perceives it.
It is death and rebirth itself.
No matter how much of a master one is with energy, no one can tame Khaos. One can just learn how to adapt to its whimsical inflamation.
How do you aproach the void?
Via pathworking with certain spheres, invocation?
Or deep meditation while focusing on the subjects?
Both rituals, sigils, previous communications with entities of the Void, and a lot of own energy work.
interesting…
Do you feel that subjectivity and objectivity are, from psychologicall point of view, are some sort of 'gateway' to The Void? in one way or another…