i thought it was funny
why remove it?
TMW you prepared something fairly silly, but wait for other men to join in for the experimentation, with the soon-to-be charm.
(and no, its not a orgy…or gay … -well, unless you are
)
DM for the details
i dont feel ike posting this in public
TMW this happens:
-you are annoyed with fasting at the third day
-ask the pendulum (if and for how long to continue)
-it says 2 days
-the spirits laugh
-you get angry
-ask the pendulum again
-its 3 days
-you take the hint and go for TWO more days
…
yeah
edit: WHY THE FUCK AM I WATCHING THIS DURING FASTING!?!?!? AAAAARGH
TMW you call a spirit and indeed the room darkens (in Lady Eva's guide that's visualized, but nonetheless it's one of evocation's phenomena).
Just got banned from somewhere for worshipping Lilith and spreading disinfo, allegedly. I said she has ties to sumer and they said "her worship is a closed practice". Wtf does that even mean?
Fucking gatekeepers @C.Kendall Are you around? Have you heard of Lilith being a closed practice?
Some believe Goetia and Lilith are closed off unless you are Jewish
I keep forgetting this thread exists.
My BFF peacock friend was in a tree today. First time I've seen him in one in the past year.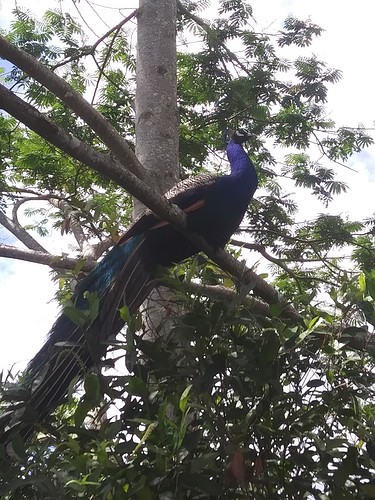 I don't remember, except for shivers which I sometimes have at least with demons.
He's SO beautiful, thanks for sharing these!
I would love to see him When a she is around I bet those feathers are amazing up when he is showing off.
Funniest thing, a few hours after I was banned I literally found out im at least 25% Ashkenazi by heritage… I think Lilith just wanted me to leave. It was clear there werent a lot of real practitioners there anyways.
He fans out all the time and the only thing looking is me… Literally, there's mostly a field that is cut. That tree he's in is the start of a drop off with a lot of undeveloped forest area. Yet, he comes over to the buildings and open fields to display himself. I don't think his chances are good…
I've never seen a peacock sitting in a tree before, this in interesting.
I've normally see him sitting on the ground, so when I was hearing him call and couldn't see him, I was a bit confused until I looked up.
Well, a Peacock is also linked to the idea of the Phoenix. Change, rising up…
Very symbolic.