Tmw
It's time to create some Monsterish Experiments with The Black Sun, your Root Chakra and pain

Oh I went through that last week. Fucking synch.
Have fun bish.
TMW an entirely different spirit knocks at your door

Hi, nice to meet you
A black sun in your ass DOES sound painful.

I just made this my phone ringtone:

TMW you havent vomited in like many years until now, forgot how it feels.
That moment when…you dream that you can teleport and you go around robbing banks and murdering people

Tmw
Dear EA and My Brothers of The OAA:
Chill.
Pls and Thank You.
Sincerely,
A brother of the OAA
I would Rob a bank then teleport to the strip club in Austin tx
TMW you needa stop being a lazy POS.
TMW I'm gonna try to do this workout every day to try and get back in shape.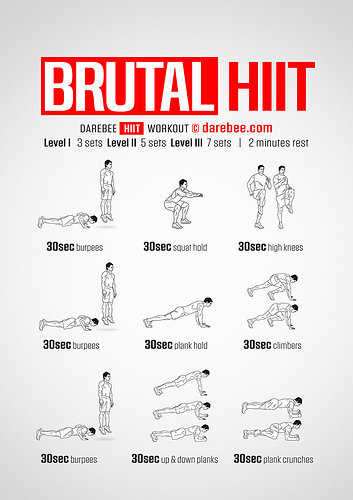 It's pretty fucking brutal.
Oh yea do it pal!!

Its great for beginners or those that are getting back into it after a long time.
Yeah, this is how I'm thinking of doing it:
First, full body stretching to limber up so I don't hurt myself. Followed by the actual exercises. Then possibly some yoga exercises to build up flexibility.
I feel like after a few weeks I will notice some weight loss and a big increase in flexibility and endurance, at which point I will probably ramp up the exercises to build muscle mass a bit more.
First of all do not stretch before exercise ever, this can cause some serious damge.
You need to warm up with exercises to have the muscles nice and warm .
If you stretch before exercises whne the muscle is cold or not warmed up you can pull the muscle and injure it badly.
You should change the program every 4 - 6 weeks so that your body wont get use to the program cause if it does you will hit a plateau and the progress will slow down and eventually you will even stop seeing results.
Keep the program fun to keep you hooked and change it every 4 - 6 weeks to keep your physical body guessing to whats comeing to it.
Good luck have fun

I meant like warmup stretches, not flexibility-building stretches. You know, like when you swing your arms and legs around to loosen them up.
I was going to be switching through various full-body programs every 6 or so weeks depending.
Tmw youre refining a Method to do Magic for people who cannot Visualize that requires no form of vizualizing whatsoever


Oh yea i got chu! You mean dynamic flexibility.
That works!
Check this website out

You will learn alot here.
You can follow them on face book they share lots of good advice