I swear thats what keeps coming to me
But it's Burnt




Aw shucks. You're making me blush.
So are you.
Tmw you sense you should stick with Belial and Azazel for a while…

Same
Well, I am working with Belphegor too, but those three are the only ones I have been working with for months.
TMW was literally and actually masturbating and then got interrupted by a message on messenger from Some random dude I don't even know who send me this.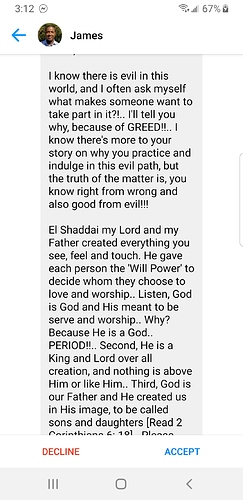 "The reason to worship him is " because his god period" thats your fucking excuse to worship that parasite that terrifies peopel with hell and other bullshit?
Man fuck shit I had a feeling Yahqeh is trying to get me back to worship him, had family members and other people trying to make me go back to Christianity or alse " you cant get a job ".
That moment when…it is hot in your room and you so you wake up feeling all icky and as if you didn't sleep at all
Drink plenty of cold water to regulate the body temperature
Tmw
Ladies
Send Nudes into my PM
I'll pay $5 per nude
This is why I don't put my shit on social media
@Micah is so thirsty he's paying for pictures of skin.
What an incel. lol
Some of y'all need some rent money
Better come up on the offer

You'll never see a single inch of me!!! Muahahahaha
Not a single of your twelve inches?
lol
I dont got to
That's what Scrying is for
5 dollars earned are 5 dollars earned…