Hi I would just like to say I KNOW I am not an expert on ANYTHING to do with any part of evoking but I was seeking help for the same problem myself and I was as to repost my question and solution as a type of tutorial. Although I am not really comfortable in giving advice but if no one before me stepped up when asked I would not be able to find any information about anything on here, so I figure if it helps one newbie like me it will be thanks to others who have got me this far.
So after following what Instructions or method given to you, you find a Goddess, God, Demon or Spirit for help, guidance, tutelage, healing so on BUT… There is no Sigil anywhere for them!!! PROBLEM!!!
Solution…… Lady Eva help!!! yup you know it!!!

So I searched for "Kamea of Mercury" ended up with " Each kamea has a "seal," which is a geometric diagram designed so as to touch upon all the numbers of the square. The seal is used in talismanic magic to represent the entire pattern square and to act as a witness or governor for them. The seal is the epitome or synthesis of the square." blar blar blar wtf are they on about…
anyway following the instructions I get a line of sorts. Yup so HELPFUL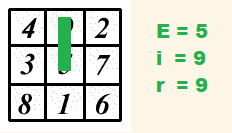 So I thought wtf am I going to do now, so I thought I will have to make a couple up and get advise on it I feel you need to own things not be spoon feed. So I headed back to a SIGIL MAKING site I found https://sigilscribe.me so I tried a sigil for Goddess Eir and I didn't gel with it as it was not much better than the first one so I thought wtf is it that I am trying to do, what is it purpose?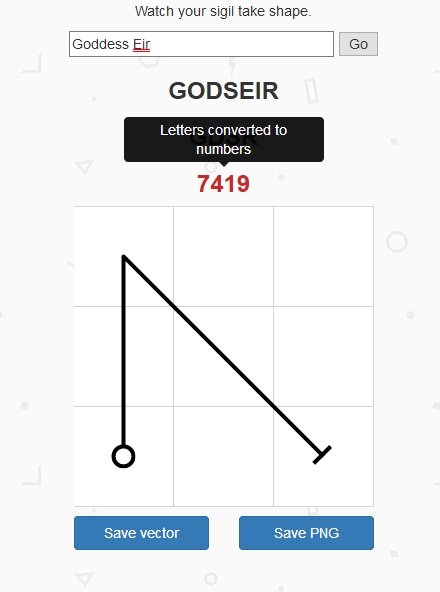 THE WHOLE POINT IS TO "To evoke the Goddess Eir in a respectful way".
so I went back
https://sigilscribe.me
and put in "To evoke the Goddess Eir in a respectful way" I was thinking with the second one that way as I use or force as much of my energy into it as I can I am hoping it will send it in the right intention of respect? I was given this Sigil and I kinda like the feel of it and I know it is based on my GOOD intentions so I felt safer.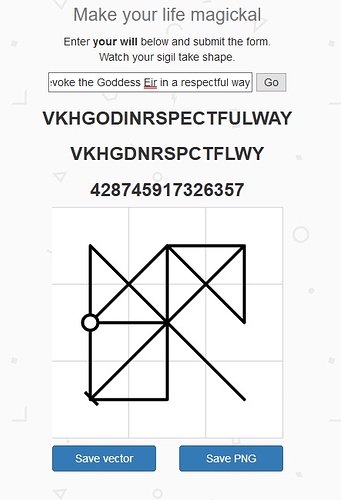 But not being one to pour petrol on a bonfire in my first evoking I sent another HELP what do you think to Lady Eva and the result is the reason for this tutorial of kinds…
So I stepped up, I hope it helps someone.