Included is my own interpretation. I'm trying to get better at interpreting tarot cards. I'm using the wild unknown deck.
Question: how does ___(insert name) feel towards me?
Spread layout info: The top card is the overall message, or how they feel towards me outside of time (past, present, future). The bottom left card represents how they felt towards me in the past, the bottom middle card is how they currently feel towards me, and the bottom right card is how they feel towards me in the future
Any tips on how I'm interpreting the cards (if I'm misinterpreting a cards meaning) is appreciated. This is more a practice reading and the answer isn't like urgently needed. More just curiosity and a good question to practice reading the cards on.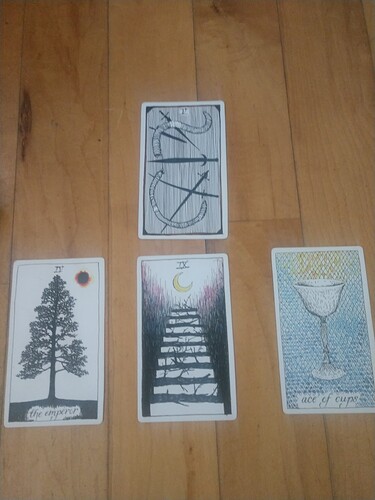 5 of swords- This card visually looks like a rope was cut in half by swords. I'm not sure if that's supposed to be a rope or a worm as I can see it look like that too. The number 5 means change and with the rope being cut in half…this perhaps means something like bondages being cut/released? Perhaps this is the type of change or action that is happening as a main theme? This card doesn't really seem like a feeling card, more like an action card. It also doesn't seem negative despite the Google meaning of the card since I'm interpreting it different.
The Emperor - the emperor is another card that doesn't seem very feely to me. I think it's more logical? So maybe the person had a more logical relationship (in how they viewed/felt towards me) then one of feelings? The tree in the picture looks sturdy and strong so perhaps this also translates to them and me.
9 of wands - this one looks like steps leading up to a crescent moon made of sticks or branches. So maybe there are obstacles in my path forward or between us that needs to be overcome? But with the crescent moon being lit up and out of the darkness, it looks like there's feelings of hope between us or something.
Ace of Cups- I was happy to see this card in the future position! Especially since cups is a emotions type of card…being the ace of cups is a positive sign…new beginnings and expanding energy! As shown from the yellow light rising from the cup! So perhaps there's going to be positive emotions or beginnings in the future!