Can I have a reading please, about my path?
Blessed be
Change will come abruptly you not be ready for it but it necessary for your growth if you wish to overcome the tide of challenges that seek to swallow you must clear your mind forget about your anxiety and hopelessness and do what you believe in reignite your passion and perpare for the worst but expect the best in yourself universe will Relentless in this stage of your life. You either come in to your own or face a crippling defeat.
You should on work maintaining balance above all else work on finding joy the make living worth while. Lasty take good assessment of external forces and what you hope to achieve by work through your problems.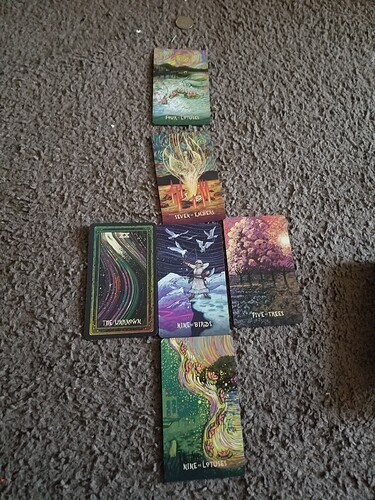 I see hard work, sacrifice and success. Success how do measure it the cards ask this question of you must find what it mean to you growth that you accumulated your influence on this world or raw spiritual energy that you have obtained through discipline and hard work. Before you go taking a another step remember all you have done and how far you've come. Bring your self to a meditative state put you mind in a spiritual place think on the structure of your reality and how you can build apon it.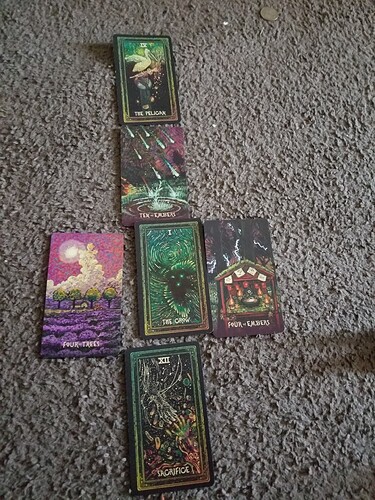 Thank you very much for your time!!!I Thank you

Had vision of sorts I see in a world feeled with darkness immense winds thing get tossed around the place in chaos you stand front of a door of pure light it feel inviting but circumstances are rushed time is running out and don't have much time to think on your decision for this unknown venture. The cards speck of relationships and your wish for harmony among them but might be holding something yourself back from that you rather Express freely. The cosmic tree speaks of the unconscious mind how thing happen for a reason dispite the pain we may feel in are live it bring us closer to understanding are selfs and what we truly value in this world. If you ever find self in a dark place betrayed and in ruins remember that it will only strengthen you bring wisdom for the future so that when the thing that you value dangle in front of you you'll see it clearly and fight like hell to hold on to it. Believe in your worth believe and your power.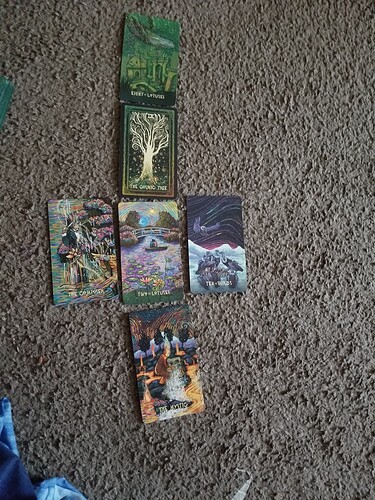 The can't say if you'll get you life back on track but I say that you want to bring everything together in harmony dispite the slow moving of cogs they are move and at the moment you might feel betrayed by someone or the world maybe even yourself. I can't see thing coming together as you hope but it's important that keep moving forward dispite how ambiguous the future may be how you structure your work will be important for the future do. overdo it when trying to accomplish your goal it important that ground your expectations in reality.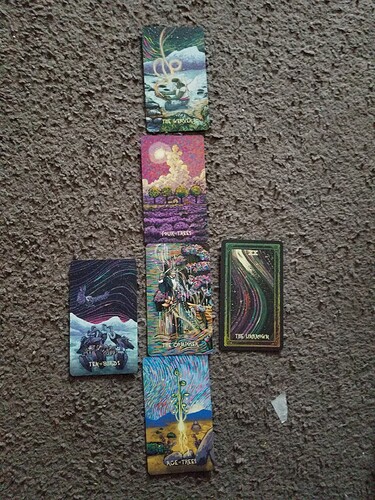 Thank you. I definitely recognise some of the things happening atm in what you said. Thank you for doing the reading and for the encouraging words!
@Jonny_somthing I would love a reading. For a long time I haven't been trusting of myself when it comes to ideas I have for goals that im working on when it comes to the advertising and marketing portion of my business, I wanna know if I can trust myself and my ideas
I see dark tunnels far reaching into the smoothly carved in a perfect I fall in to it until come out in the wilderness a full moon beast stand above a cliff over look me and find my self then sitting with a man old look man western look about him he said that if go looking for answers know that this experience will be very much your own and it up to you who you wish to work with. The choice was alway yours you are a god act as such I'd ask if he was Asmodeus he said perhaps he treated me as a old friend as if we hadn't seen each other in a long time.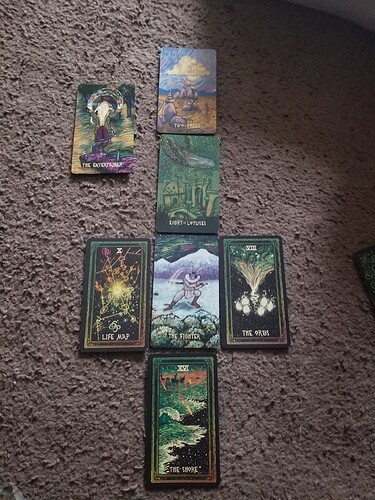 The cards say your energy is better spent elsewhere there many thing you must leave behind if you want the to grow the Spirits will follow you in your task but it up to you who you feel is best suited to bring about the change you desire you are expected to stumble in your in work and life but you most believe in your own strength your wisdom and determination if wish to bring these spirits into your circle focus on adaptability Rise your banner and stand for your cause the rest will follow after see your commitment to your goal and effort to make contact.
Weirdly saw a young man with horn sitting on skyscraper like some kind vigilantly it felt very adventurous.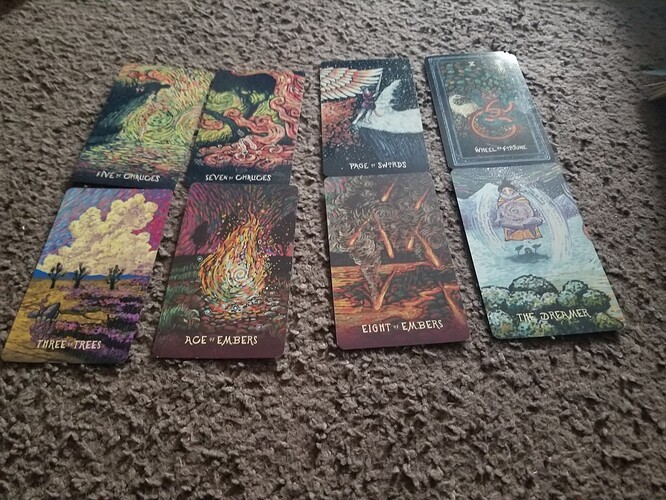 Your doing good with your goal remember to keep up with the break away from bad habits and ti remain focus on your goal overindulgence seem to be a Hurdleyour going to have to overcome to get ball moving. The cards say you should be vigilant when dealing with other there a lot you'll be expected to pick up on in these interactions. Lasty the wheel are turn but don't get to lost in the dream or your own delusions it important that you remain grounded in reality so your mind sees clearly.
Thank you so much for this! It resonates really really well!
Glad I could help thank for the feedback.
Hello,may i ask you about spirit who is with me,does she have some message for me,or something like that.Thanks in advance😉@Jonny_somthing
The card say your making good progress and it will soon start to bear fruit. You should focus on connections and relationships when dealing with others try to understand there perspective to better navigate through your environment. Cards say it a good time to advance your practice into other areas even if they seem difficult but expect more hard work if you go down this route. Last the ace of birds speak of the importance of patience and trust with a possible breakthrough in the future.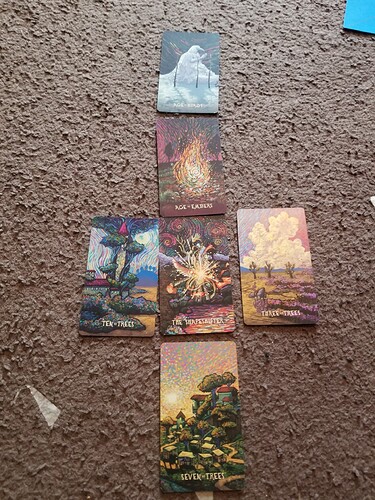 Your already very capable in your field understand what necessary to make business grow but at the same time it seem you fight your self when come to decision adaptability seem to be the lessons to learn understand compromises need to be made to your customers and possible employees if you wish to grow. The cards ask for you assess yourself when come to thoughts and actions. Make sure that everything is align with your goals because these little thing is enough to tip thing out of favor. You'll be expected to learn from trial and error to walk forward dispite your failures work on improving your craft and your overall out look on life.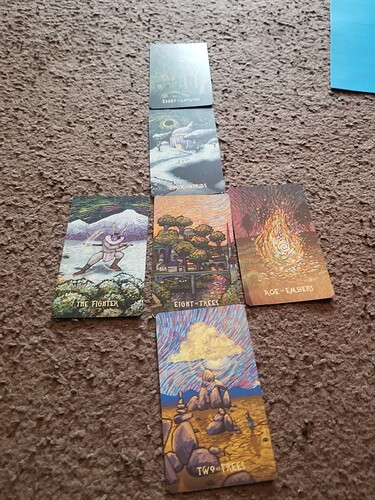 @ArtSoul I would pull cards but my intuition says it's not necessary if you really want the message then you should talk to the spirit in question. I rfeel like it would be a insults to try and pull cards for your question and suggest that find the mean to communicate with spirit yourself.
Hi Johnny, Ive been studying a new form of magick and uh I wanna know how far I goes with this my new art. And uh, I kinda afraid that I being scam cuz hardly feel the power of this art. Even tho Im kinda new to this art
I understand,i speak with her,but can't hear her,i will keep trying more.Sorry for asking you that question.
she can hear you, she watches over you and she understand your troubles but she wants you to keep trying. to make the sort of effort to build these type of relationship it bring forth the results you desire. I remember the a spirit of my own said the they wanted to hear my voice more but I don't talk much so a spend time speaking nonsense or of the mundane it helps a lot .
Thank you for answer,really helpful for me.I also dont speak to much.Problem is because she dont listen me anything,and i really dont know why