can someone scan me?thanks
I would be interested in a scan. Since i usually do not doable in to this i can not offer a trade. Im just curious.
Thank you.
Can someone scan me please? I can try to scan you back. And I can post a photo if you want.
Anyone fancy scanning me?
I would love a deep scan as to what is around me right now I won't go into specifics but it is urgent. Thank you
@Vuul, I just want to remind you that you cannot do any sort of scans or readings in PM. We have a rule here that prohibits newcomers from doing any kind of readings for members until they have been active for a minimum of 90 days. The only exception is participation in the dedicated public scanning threads.
In the past, some people had difficulty scanning me… shrugs
… is anyone here willing to try a scan on me? Very interested to know on what you gonna perceive.
I want a scan from someone experienced, please?
I'll trade if anyone is up for it.
I saw the image of a lion's head and then a man standing in front of a large stone wall. He was wearing a suit of armor and had a long sword in his left hand by his side.
I sensed someone with an open-mind, an eagerness to learn a vast variety of subjects and then I seen a door of total darkness. I seen a mask and then from the door came a lion, which I took to be a form or a mask of you or a certain aspect of yourself, often they symbolise strength, suggesting you've gained power in your magical domain. The lion urged me to follow it so I followed the lion down a curved dark path, it walked alone, without a pack, but walked with pride and grace, telling me couragousely you walk your own way and you are led by no one. Towards the end of a path, there was a female entity, possible succubus, I'm not sure, she danced seductively with bat-like wings.
I saw you writing in a very large book. It was very thick and sitting on a stand close to a window. the room looked like a library or a study. with lots of books on bookshelves. Then I saw an image of a crone. It seemed you were a collector of knowledge which would go along with the crone as a crone is a wise woman.
Since I have time to spare as of right now, I'd love to trade a scan with some of you, you decide who starts off. Any takers?
Interested in trading a scan
@Vaynord As I explained to someone else above, please be aware that you cannot offer readings/scans in PM as it is in violation of the forum's rule prohibiting new members from offering any sort of readings or scans, except in the dedicated public threads, until they have been active for a minimum of 90 days, and you have only been here for just over 30.
Anyone up for scan swaps?
I was wondering if anyone could scan this image.
This mirror draws my attention and has a weird vibe to it.
And I'm not sure what's pulling me to it. If anyone has any insight that would be amazing.
In this photo I've been told someone is standing by the door. I'm just not sure who it is. So if anyone senses that as well and can confirm that would be amazing!
I'm not too great at scanning but I can def give it a try if you would like to trade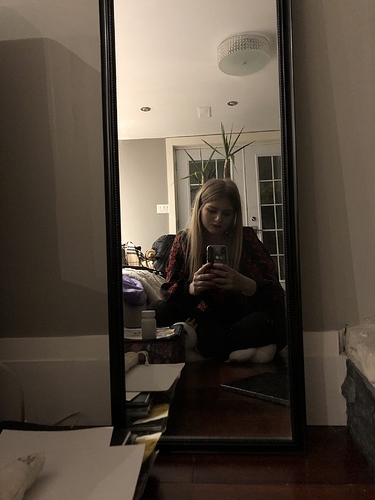 Is anyone up to trading scans? I'll gladly give a general energy scan in return, these giving an overview of your energy health, any elements/unique traits, etc.