Yesterday, I was in the process of an astral projection or a soul travel meditation, whatever term you want to use. The meditation was a failure, more like my failure but not the meditation itself, that is irrelevant. I saw a lot of things, at the end I saw a bright white light and that's it, before that I was in the state where I was getting into the trance. At the end of that state, I was in very deep relaxation. It was so deep in fact that I could barely hear any outside noises and my breathing was low paced, out of fact (My breathing usually slows down a lot during the crossroads). Then in the darkness a symbol in colours out of this planet, I cannot describe them in any way. The symbol was floating in front of my eyes and disappeared after some minutes.
I do not think it was a hallucination due to the way it was formed and how… perfect it was. It appeared as if someone specially made it to contact me.
I remember it as well as I could, this is what I came to (I used blue for simplicity):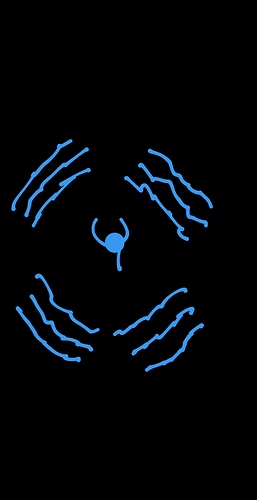 Does anyone have any idea of what it could be?
Thank you in advance.
/Daniel