Serphanticon is a duke under Belial and a very good teacher so far. He was sent to me from Belial because I didn't show enough commitment to fully work and concentrate on him. So now im here.
All the info was channeled by me in ritual.
Sigil: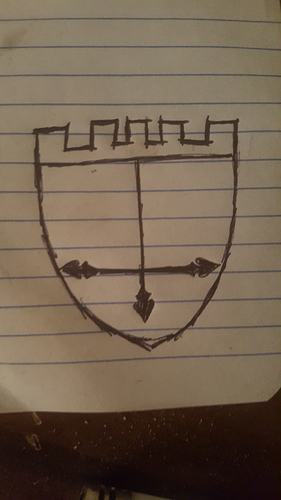 Enn: sers aka serphaticon.
Ritual 1:
His enn: sers aka Serphanticon.
The second I did this he showed me pyromancy his pyromancy.
Some quotes or sayings I got from him:
" you influenced my form, but I influenced your mind to be me". I see this as I create him, but he influences the creation of the mind to be himself.
All his heads are him, but not at the same time. All his heads are connected but have individual minds. His heads are like trials, I have to master commitment to speak to his next head.
His appearance:
He introduced himself by ripping half my face off with his bony head. I didn't flinch to show fear, and he tested me a bit farther. I didn't fold and he calmed down and decided to answer questions. He had a huge tooth on his upper jaw, it was one singular tooth that stuck forward. His bottom jaw fit comfortably under his upper jaw. He had huge spike-like teeth. His entire head was bony but on the way down his neck his scaled looked malted and decomposed, all the way down till the scales looked brand new.
What he can do:
Serphanticon's first head has power over divination, he can alter readings. He altered mine at the beginning. I asked if he will show when I do the ritual, the cards, and no. I did it anyway and poof, he showed. This leads on to testing commitment. He likes to teach commitment and will test you often. He is also a pyromancer. He lit one of my incense on fire completely. He also attracts snakes.
The final question I had was:
Q: Why did Belial send you to me?
A: you lacked the commitment to go any further with Belial, that's why I am here. I will teach you how to commit and go all in.
That's all I was able to get out of him before he dismissed himself I thanked him generously and left the ritual. I am so fucking happy! This worked completely in my favor and I need to start listening. Thank you serphanticon, thank you eternally.
Ritual 2:
Serphanticon: commit but never overcommit.
Me: what incense do you like?
Serphanticon: dragons blood and frankincense
Me: where should I start?
Serphantion: start looking into defense. Always plan ahead, and only call me when prepared. Don't force it and don't mentally drain yourself. Bring your all or don't show up at all.
Ritual 3: I prepared questions this time.
Q: Why did you show yourself so violently in my dreams?
A: I took some of your fears and some of your liking and overhauled them to grab your attention.
Q: What does your name mean?
A: serpent, phantom, conclusion. That is also the three themes of my heads.
Q: What is your connection to divinity
A: that is the phantom head, it deals with these likings.
Q: What is your connection with Belial? How did you become aligned with him?
A: he chose me for my challenge. Belial likes a good challenge. Also To test people like you. But anyone is free to take the trial.
Q: What do I need to focus on?
A: defense! I will not task you with anything else until you complete your current.
Q: What can you tell me about altered states of mind?
A: you should already know some because you're currently in one, but phantom can take you further amd help with deeper understanding.
Ok serphanticon, any last things to add?
A: you have shown me great progress, but you still have work to do. You will be meeting phantom soon.
I closed the ritual and dismissed serphanticon, thanking him for showing and answering its questions.