I'm in my office having done a ritual, written it up - looking out of the window and spot a fly buzzing around and I recall @dollarvaluemenu talking about Duke Sallos.
Yesterday, I'd considered a chat with Duke Sallos regarding my situation and also what I'd read on other threads, not that I have an issue with Lord Rosier's work.
In any case the point is I saw the fly and asked "Are you sent by Duke Sallos?" Obviously this an insect in January, a fly - OK, I think I could do a honey jar candle so let's have a look at a planetary hour - I type in date and the page responds with a really interesting glitch - can you spot it?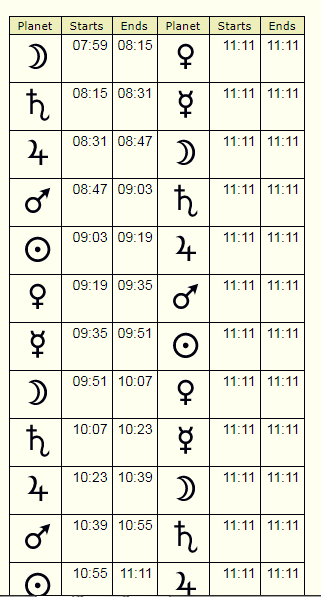 At about 14:00 I'd done a ritual with Duke Dantalion - I'm wondering about this.
What would you make of that? A message? Server response glitch?