Congrats on the hard work. Awesome
Much appreciated brother.
I knew a Chaos Magician who did stuff with wolf spirits. His Magickal Name was K9.
And my (first) name was Frater C.L.
At the time I had no idea of the huge Magickal effect that was engendered by me taking that name upon myself, because one's first Magickal Name is the strongest…but I digress…
OUA.
My girlfriend and I are actually going to a wolf farm on nov.11. Do you have any advice that can maybe make my experience a bit better?
Bro.,
That would depend upon the type of wolf farm, wouldn't it?
Al.
How would i know? Obviously i dont know anything about wolves, hence why i asked lol.
They must have a website and maybe reviews by people who went? Wolf farm… milking them first thing in the morning must be one hell of a job!

For sure!


~And what are they doing with all that jizz?
Thank you so much for sharing this with such honesty and intensity. My heart still races from excitement and yet another affirmation that the left hand path , has been calling me my entire existence. I only recently have decided to stop getting in my own way, your advancement inspires me to lead a very different life untill recently I've become a solitary student occultist. Your experience gives me conviction in my choices. Thank you.
Sincerely R.M.
soon to be R C .M.
funny enough on the part about the man as we walked off he started howling and stuff, it was cool to do.
Has there been any progress or further changes since then in the years that followed. Or possibly a mention of a wolf named Kåeleb? I am working on a rather pertinent ritual and could use some insight on this
I have an apprentice that wants to attempt this or something close. How far on the path should they try this. Also is it safe.
Maybe your subconscious craves deeply to discover Satan.
Because the cradle of civilization depicted Satan as wolf with a serpent body, flying.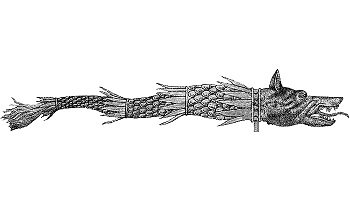 I've always wanted to crack the code of real world shapeshifting but could never figure it out. My ancestors on my mothers side were skinwalkers and my younger brother has always shown some gifts from that path but I just can't find much information on it.
Huh… Actually glad this thread got necro'd. Just so I could see it and point out something interesting. I have my tattoo connecting me to my wolf spirit. Got it back in 09 I think it was. They look similar only mine is in tribal style.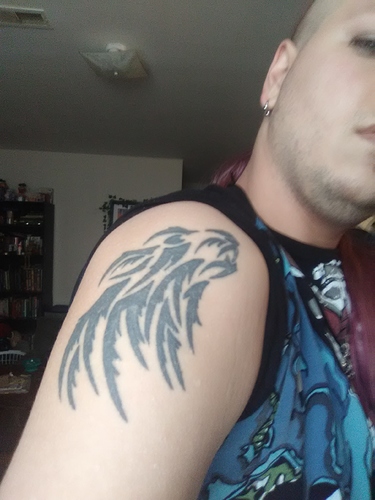 I appreciate your story Master Kendall. It reminds me when I would race my spirit wolf.
The naming process was interesting. He had said, or rather whispered, "I have a name but I no longer enjoy it." Then he nearly howled with a very guttural noise saying, "Name me!" Then he jumped on me and actually made me physically collapse on the floor. So, I said to him, "I will name you, however, I need you to come up with a secret name for me that only you and our future pack will know."
I was about 7 years old when we had found each other, so, I thought this was all super cool and that I could be a superhero with my spirit wolf "sidekick" fighting all the evil in the world. When I shared this, he growled "SIDEKICK?!" and he nipped my nose saying, "if anyone's the sidekick it's you pipsqueak!"
Anyways, we had moved on from my silly dream and started to bond over the next few years. He was always with me but he was rarely manifested near me. At about age 9, I had come across a bully in school. He picked on me everyday. Finally, one day, he punched me. The look of shock on his face when he was pushed down by nothing visible was priceless. Of course, my wolf didn't think that was quite enough. He yelled at me to beat him until he ran away scared. At this point, just about anything my wolf had said I would take at face value. So I obliged and I beat the kid until a teacher took me to the principal's office.
Long story short, my wolf had been my protecter ever since. We have an unbreakable bond with each other.
Now for the sad part, I haven't seen him at all in the past year. He has just disappeared. I've tried calling his name countless times to no avail.
So, my question is this: does anybody know how to find a lost spirit animal? When I have asked my shaman friend, he had told me that you never lose your spirit animal. I don't know what it could be then…
That is interesting insight on using Magick as a form of shapeshifting. Very curious. Thank You for sharing
Amazing journey
I will continue upon my multishifter path (it's hard, it requires a lot of effort and time, not to mention dedication and devotion… but it's worthy) and update wherever any more progress would occour. I have tried shifting into a hyena few days back and I could actually feel my aura and physical body filling with intense energy
As for You, guys, please feel free to comment on Your own progress

Oh damn I LOOOOOOVEEEE Angrboda
How would you prepare For this? And how do you find what your power animal is?