I just want to say, prior to going into this, that I am quite a logical and grounded individual. So much so that I do not believe half of the stories I hear from people on here. But what I am about to disclose happened to me in a manner that (as far as I know) has not been manifested in any film or book to date.
After finishing work I decided to relax on my bed. 20 minutes later I black out (probably fell asleep). I awake and look at my watch to find that I was asleep (I think) for 30 minutes. 10 minutes later I black out again. This cycle continued for 6 hours - this fading in and out of consciousness - this inability to remain conscious for more than 10 minutes. Shortly before I regained the ability to remain conscious for a greater time than 10 minutes, I saw this for the briefest of time (3-4 seconds):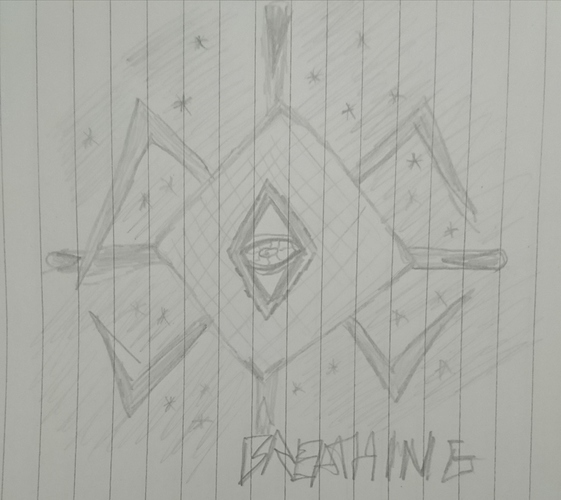 The above image was drawn by hand during the aforementioned state between conscious and unconscious.
I have no idea what this is. It has no name - what can only be described in causal language as 8 spider legs, a constantly warping white eye inside a tetrahedron, and it does not speak. It only breathes heavily.
The having of no name and its inability to speak is something I expected however. This THING is an acausal entity, so logically its being would not be able to manifest in causal totality. Instead taking the physical form of an abstraction my consciousness allows me to currently comprehend, and it would not manifest causally in the same way it did for me if someone else was to connect with it.
Shortly after this event - and after my regaining of consciousness - I had to make a journey to the supermarket. Upon leaving the apartment everything felt like an abstraction - a cosmic simulation of some form. I felt like I could just bump into passersby and they would disintegrate into nothingness. The same applies for the buildings, automotive vehicles and any other physical object.
I was almost at the store when I looked up and saw a large aninamted, tourmalated, quartz tetrahedron in the sky. I could not see it physically with my eyes but I could see it by subconsciously or unconsciously utilising something else.
For the entire duration of my short trip to the store I could feel the presence of THING hovering above me - emitting a creeping cold to let me know it was there. I have not banished it because I do not feel threatened by it. It is just there - hovering - watching.
I have no logical explanation for the creeping cold because it was exceptionally warm outside.
What I find so strange about this is that I did not conduct an invocation or evocation, yet it still latched onto me. This is part of why I believe it to be an authentic occurrence. There was no theatricality, no ritual, no working. It just came out of nothing.
Has anyone experienced this before, and if so what is your analysis?