Greetings Everyone,
I want to make a post thanking Bune for all their help since starting a working pact with them. (Bune has appeared to me as both masculine and feminine energies, thus why I write their/them).
Within just one week of invocation, I've received two job interviews at places I actually want to work for, not just places to pass time to make money. I've also felt a new energy and confidence within myself to start pursuing things I'm passionate about. Bune has really helped me to amp up my search for finding my next move in life.
When I first felt their presence the energy was very strong yet light. They seemed to welcome me right away and agreed to move forward with the pact. I felt they mostly wanted to be recognized in public and their name passed on so others have the chance to see if Bune is right for them to work with. I made material offerings with some flowers and an apple.
If you're short on creative ideas and money/employment, I would definitely recommend Bune!! Be respectful and they will respond to you in the most beautiful ways. I've included the sigil I used and the drawing for Bune. (I did the drawing based off the energy I felt from Bune, I'm no Picasso so be nice haha)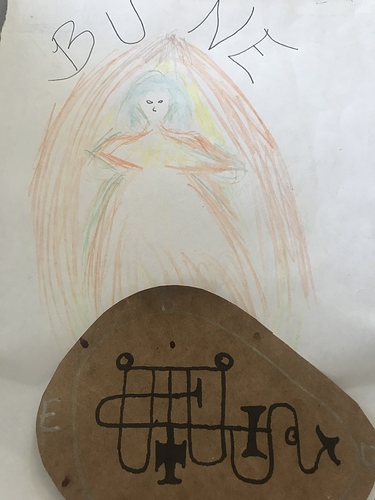 Hail Bune !