Who has her sigil. I want to contact her
I don't know if she has one but you may want to do some research on her. One thing I will note she's very much about choosing who she works with, but don't let it stop you from trying. It also won't be easy at all.
Well any info would be appreciated
Research her myth, you would have to contact her the old fashioned way
You'll be hard stretched to find a sigil for her, I would research her a bit and see what images come to you and use those in your calling, animal wise she is very closely associated with crows and wolves. She is also a very intense goddess and like aiden_crow said, she is very selective.
If you do need a sigil try this, the symbol in the middle of the triangle is associated with her (and other celtic deities i believe.) that should give you a bit of a starting point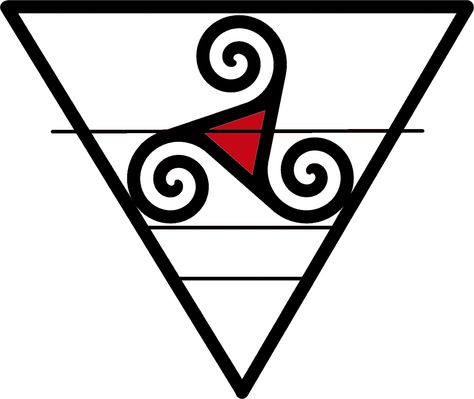 Essentially shes a Celtic war goddess of death, the land, sovereignty, fate, magick, prophecy, pestilence, the underworld, sex, the fae (to some) and healing. As well as rivers. Her primary animals are the crow, the wolf, the eel and in my experience the dragon. However I'd still study her myths. It's wise.
On a more non study aspect I will say this, in no circumstances am I trying to be dogmatic or discourage you from her but it is the truth.(and really everyone can object and get mad all they want on this one but they'll find it to be the same case anyway, either way she's told this to some and those that work with her will say the same thing)
Many who approach her get the wrong idea from her mythos. They sometimes tend to see her as this revenge crazed, sex crazed, blood frenzied goddess, when she's not. (She essentially gets demonized a bit) She really isn't like that. She's very big on respect. She isn't something to be toyed with or just used and put back on the shelf. She's not for everyone but id say give it a shot.
Now that the serious parts out of the way, she's an amazing goddess to work with. She can teach you a lot and is a sweetheart (however she'll use force if she has to). She can be very intense and transforming and can offer a lot. Go ahead and read up on her, give her an offering or two and try meditating with her, she'll let you know if she's the right one for you. Let me know if you have more specific questions. Shes the first goddess I read about.
Contact her through my sigil. When you contact her you are also contacting morgana
That is actually me
A bit of a limitited view.
It's not exactly limited if it's true.
Don't start that. No one has time for it. You do you.
I'd honestly not use an online sigil, unless you want to put the hassle in trying to weed out fakes, beings claiming to be one of the 3 morrigan, or basically giving your attention to a thoughtform or someone else that's not them.
You can look into making a petition spell that way you can call out to her and then request a personal sigil from her that is a personal phone line to her, without the hassle of going through iffy connections and aforementioned hassles.
Welcome @Billym. Please make a post in the NEW MAGICIAN AND INTRODUCTIONS area, and tell us about yourself and any experience you have in magick. It is a rule of this forum.
On a side note, its a great spiritual symbol for invocation or just any type of spiritual contact; life, death, and rebirth and the first thing and last ive tattooed on me. Funny enough got lost at work today listening to tales of Morganna how she is a goddess of magick, life, death, fate, oh and one of my absolute favorites crows. I sometimes feed and give gifts to crows, they're very smart birds, and appreciate offerings of food and shiny objects to put in their nests. I think making connection with animals that work with the gods is a great way to start a communication with them. Hope this helps the OP, if not sorry for late night ramblings haha
My thread:"my personal alchemical transformation. In srlf realization"
Thread created after Becoming a d the removal of chakras
I am who I are
(No not a typo)
You believe you merged with the Goddess(s) the Morrigan? just to understand the flow of the conversation.
apparently since she wants to constantly push that point despite the fact I straight up told her I don't give a fuck.
Ah I see, I thought she was claiming the Arthurian Morgana, human witch.