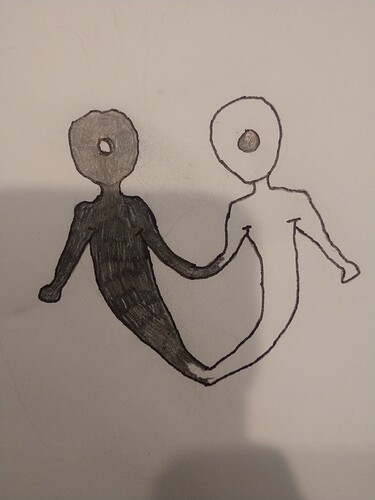 Concept art:
Yin/yang
Twin (two, same)
Positive/Negative
Division (like cells)
Birth
The idea is that these are two souls (or consciousness) coming into existence. I see twin souls in much the same way as I see physical twins and I based this off the way cells divide. From one center point, the two have "birthed" and are in the process of dividing (they are pulling apart from each other to become their own seperate beings). I did this art while listening to music, so it's music inspired lol
This is music Inspired artwork and also from one of my dreams too… Music is GREAT for meditation lol
"a part" is two words. Just so you know

"Apart" means separated. Could have magickal implications there.

"You are a part of me" as in, one of many parts.
"We are apart" as in, we are not together.
Oops. Yeah I meant "a part"
First drawing of a series of drawings. I was drawing something else but then it turned into this. Originally I was drawing about gender dysphoria but somehow it got turned into drawing Lilith. I was originally going to draw a man with wings (to represent freedom) and half of his face being "me" and the other half being the "trapped" me or whatever. The feeling of being "trapped in the wrong body" but then I started to think of that dream about Lilith (and/or one of her sisters) where they taught me something about their appearance not being what it seems.
In the dream there was three of them and they were like discussing me, kinda laughing too (not really in a mocking way…) and then I went on a walk with one of them. But her appearance changed. She was bald. And I asked, and she said they are not naturally haired the way humans are…(?) Then the dream ended.
I don't know if they meant this litterly but I did a drawing with a spin-off of this. It's Lilith as the "demon storm bird spirit" form, setting desert since that's what she's shown me in a dream after I first met Lilith (the desert, not bird demon thing).
Here is the first drawing: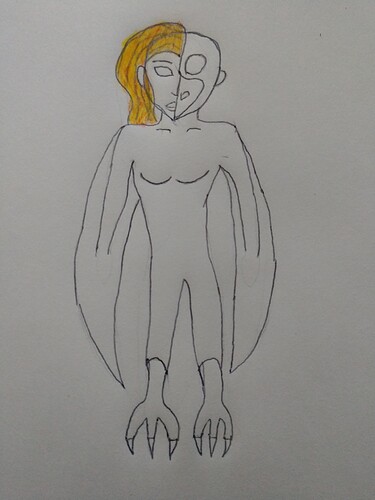 In this, the face of the woman is supposed to be a "mask" but so is the face of the bird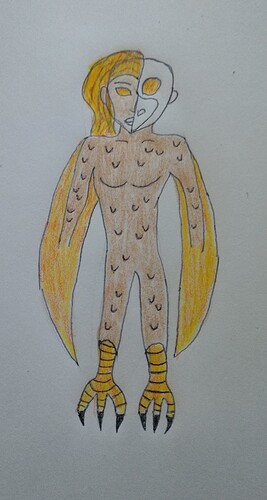 The eyes are the same color as her hair/feathers to represent how her energy "color" looks to me… basically the eyes are supposed to be the "windows to the soul" so I wanted them to reflect her energy to me - well how it looks. I decided to make her body like a mesh of human and bird. So while the body shape is humanoid I added feathers. Which adds into the whole shapeshifter theme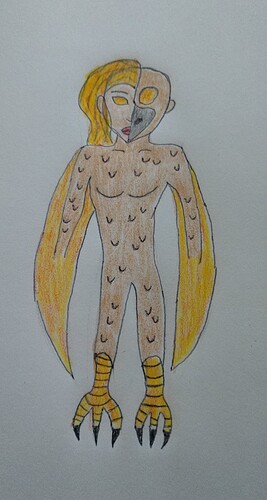 For now I am done with this particular piece
I still remember, in that desert dream I was also flying in the sky as a "bird" (I didn't see if I was actually a bird in the dream, just the understanding that I was) alongside another bird.
You can guess what inspired this one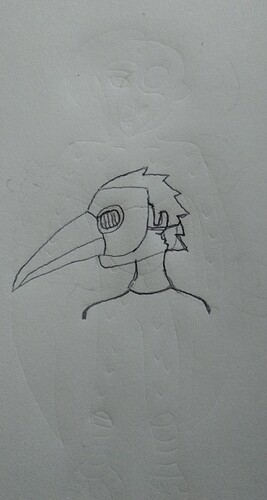 This one is more representative of me, and not just the dysphoria lol.