That works. I'm on the road at the moment (stuck on traffic).
Cool, sent you a message in the pm thread.
Ah, thank you. Just got home a but ago. I reread my notes and it started coming back to me. I read.you notes above and it felt like the same being. To confirm this, I reopened the sigil and asked her to come. I used "they" initial, but she presented as female. I stand by what I wrote before and ahe came with the same energy I described. So, that's twice I got the same entity from the sigil and the same feeling from your passage above. She's still quite excited.
Thank you! Well from my experience today, seems like I made alittle contact. I'll keep going - that helped confirm that for me. So that was her then!
Glad to hear that she's excited.
Cancer Sickness Dream:
In this dream, I had some sort of sickness. It was a mix of weird growths (mostly within my mouth) that I kept pulling out. Like pulling out chuncks of mouth (inner cheeks/gums) tissue and more would grow until I'd have to pull that out. I remember seeing a therapist and while talking, I was having to pull out chuncks of mouth tissue every now and then.
The therapist in the dream was sorta concerned - but acted like she knew what it was. Said it was cancer, that originated in my bones (the marrow?). In the dream I told my father, but he didn't really believe me. And reluctantly spoke with said therapist who was convinced I was ill. I did my best to hide it from my sister - who was concerned that something was up.
That would be a rough dream, to have it so vividly.
Those types of dreams are very common for me. I get nightmares frequently, usually about serial killers/etc coming after me or etc. Have those recorded to. Last night's wasn't so bad compared to the norm. Although yes, the gore factor isn't pleasent.
Opa Death Dream:
So I was having "death" dreams on a weekly basis in the last few months leading up to my Opa's passing - I'm going to record one of the important ones I remember well
In this dream, Opa was getting more sick/frail and we were preparing for his death. Now this dream had similar themes to the others - very vivid and sad. His body was getting weaker, so he had trouble moving around. He was also aware of his own impending death. (In one of the others he actually laid himself within a coffin…in the basement…and yeah…). What was different about this one was the next upcoming scene:
I was guiding my family (Opa, Oma, My sister, and father) to and then through this GIANT forest… it looked nothing like the ones I've seen in my lifetime. The trees were HUGE and spread out, the ground was green, and there was this large stream of cold water (not river). I guided them through this forest… And to this large tree… Right at the base. Just the roots were huge - coming a bit out of the ground… Bigger then a person.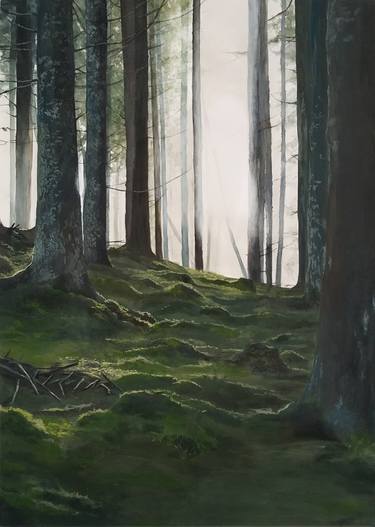 The forest looked something similar to this… Not exact though
Opa then laid down by the roots/lower trunk of the tree and passed there.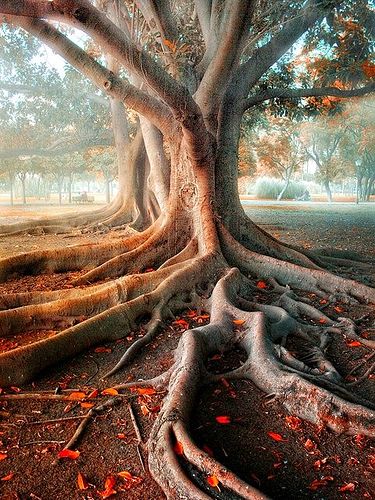 The roots came out of the ground alot like this, although the trunk was ALOT taller (bigger/taller tree) and green leaves, not red
After Opa passed at the base of the tree, between the roots - I guided my family away (to leave the forest?), Opa's body within the dream was left at the tree -
So I suppose I was guiding him to his "burial" place or place of rest, in said dream. My Oma however then turned monstrous. Almost like she was possessed. Before his death in the dream, she was sad/kind/empathic. As soon as he passed, she became mean, greedy, and well her facial expressions changed. Looked cruel/deformed/demonic? She may or may not have attacked me/family within the dream.
The dream ends.
My mood today:





(from left to right, goes in that order) I'll update once improves.
Huh? The post was more in reference to a bad start to my day. The not mad-to pissed hightlights it very well for me. Day got better though.
For some reason… I've noticed that the BALG ads displayed for me have been getting more into the…well "sexy" entertainment "game" side… I have no idea why…
Quick note:
As of recent I've been having odd dreams. Mostly of some great disaster happening to earth/civilization's (when sleeping on a spirits sigil) plus I also ordered a statue for an altar (I don't really consider it that, but altar is the best term to covey) that I had been oogling at for awhile.
The dream I had was very similar to one I had when I was real young.