I will when i get home. Got a few things to finish up.
Ive been sleeping in the first gate …the moon ever since i started it … tuesday. Ive had some wild dreams.
Last night the moon shown through the blinds in my window …with dark black clouds around it.
During the night I look over at my altar where my Lucifer poster hangs and a canlde holder … hanging around it are my Azazel necklace, Belial, Lucifer, and my Inanna pendant. When i looked over last night, it had all turned gold.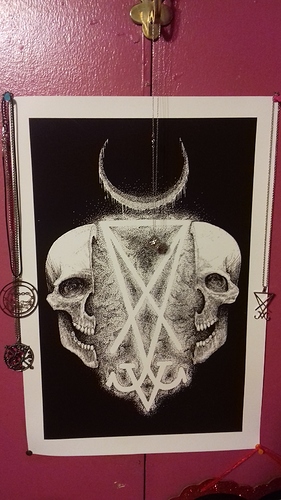 Everything in the picture was gold.
I see why though, the godess and her two high preists together …
In my dreams i was in huge house with golden things and tape player started playing backwards on its on. I wanted to here what it was saying but someone else stopped the tape.
Night before last i dreamed of a huge wisteria tree the biggest one ive ever seen, it was massive. The colors of that dream felt like a fairytale, where all the colors are golden and warm.
I have three more days of sleeping in this gate … so we will see.
So a week of sleeping in the first gate, ive gotten my state tax refund check yesterday, my federal came in today a day early, my pay check goes on tonight and everyone at work said i have a glow about me.
This has been an amazing week, in so many ways!! This has me excited to see what the rest of the gates have in store.


But im taking a week off before i move on to the next. Need to meditate, go over notes and reveiw experiences.

I see the queen is wearing the crown
Or should i say goddess.
Im trying it out…
Do you like it?
Its fitting. No pun intended.
Your energy's definitely grown even stronger, and has more, kind of, gravitas in those photos.
More of a queen than a princess, now, iykwim.

Aww thanks
You dont want this letter
Someone getting stomped eh? Ill get popcorn
AZA
AZ
E-
AZA
AZAZ
AZAZZZZZ
AZAZEL
RECLAIM
AZAZEL
Scapegoat No More.
AZ
AZ
X
Time to pay The Hall of 3612.

lol!!