Hello
Got my Tarot Cards yesterday here are some pictures :
This is the box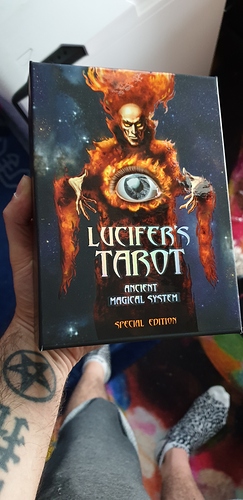 Box , Book and the Pouch the cards are in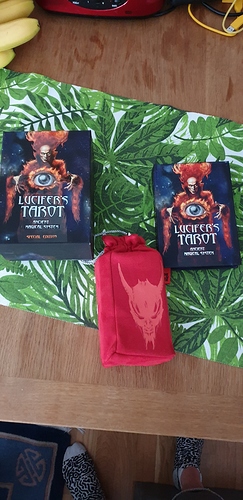 Here is a picture of the Cards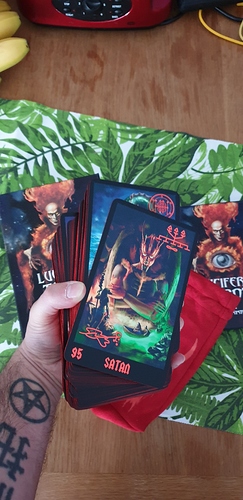 Its the special edition so it was alittle pricey but im very satisfied. And it feels alittle bad when i shuffle the cards because they get alittle "damaged". So if u want this deck and gonna work with it i recommend to get the cheaper one because the cards will get damaged. My ego wanted the best thats why i bought the Special edition. I like the size of the cards of this deck.
Did some readings yesterday, its not like the traditional tarot decks but still very nice and accurate. I must say one thing that i noticed. The air in the room , i dont know how to really explain it but it gets so silent and i can hear everything that buzzes in my room and the neighboors apartments. My voice sounds very loud like i scream. This has only happend when i do my Magick workings.
So my first impression with this deck is very positive. It will take alot of time learning to master it to do divination but i also feel like this deck has some other great uses. Like meditation, invocation and evocation work. The artwork is beautiful and also the sigils. My plan to get to know this deck is to draw 1-2 cards a day like the usual noobie stuff with other Tarot decks. The book explains the cards intepretations but some cards it doesnt explain the meaning of it, especially the qliphotic ones. So u have to do some research of ur own.
Also the spreads that the book describes are really nice, i have used Tarot alot for very long time and made my own spreads but i got really impressed of the spreads that the book teached and i discovered some really nice tweaks u can make to the spreads in the Book.
The deck is a must have for all Tarot Lovers out There !!!
Caain