Is there any Love Magick you guys know that don't need ingredients or can help me out?
please introduce yourself in the introduction section.
also use the search section. you question is already answered
I have some i've never tried them tho. Otherwise just wondering can you introduce yourself because for one your interested in the same things as me im guessing bc of this topic
What sort of love magick do you want?
Like fully owning ones love, affection have them only desire you not thotty like lol
I'll see what i have i might have stuff like that but honestly i normally use them to get people back so i'll see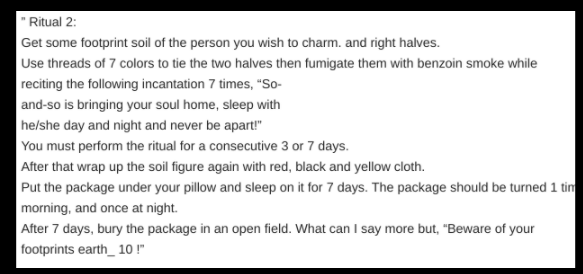 Otherwise if you want this site might have some stuff https://www.spellsofmagic.com/
Where are these spells from? Anything found on the internet and posted to the forum needs to include an attribution so people know where they came from, and who originated them. It helps to prevent someone from passing them off as their own work.
I don't know for sure i know one of them is from the Spells of magic website. My friends like magick also and they send me stuff i believe the other 2 are from them. They are not my own though. Next time i share something i can try to figure out where it is from. Sorry
No worries. It's just that we had someone not too long ago copy and paste a bunch of stuff from around the internet and then try to pass it off as their own work, so to prevent that from happening again, we ask for attributions where possible.