Hell yea !! Rock on!
I really enjoyed working with Zeus!

@Eye_of_Ra it's exciting hear that from you…
i do the same with clounds just blowing or moving my hands to to sky i've becaming able to influence or even controling the clounds moviment… (ina a strong case the rain had changed his natural course for a 1000 miles away from here)
It's cozy knowing by you that someone would do the same…
since i was a child i were able to change clounds movimevent by moving my hands on air - and it's was usefull live in a farm with no eletronic distractions.
i do also can make a light to a fire - from fog to fire in a just two blows
and make signals from smoke in air moving my hands ( i never know if this pratice has a actuall name )
Best of all for you
that all ellemental works for you


Funny, cause I've been thinking about having the abilities of Zeus for a few weeks.
Back in 2013-2014 I did a lot of visualization that appeared to shift clouds, wind, the sun.
I think k static electricity needs to be sped up in a circular manner, occasionally static zapping it. When you think about it, a taser is really little aside from that. I think it really boils down to essentially mild electrocution and being able to hold, channel, and release the energy. To me at least.
The way the clouds worked with me, is I noted the speed and direction they were moving if any. Staying aware of wind changes, I would stare at the clouds I wanted to move, and visualized myself like Elastiman, my arms and hands stretching up through the clouds, then picturing my hands moving them … Like a hand reaching under a tablecloth and pushing it all aside.
Wind is similar. Even better when you divine through tree movement, where a lost pet is concerned. Once they led me right back to my front door, another look showed her chill in in plain sight.
The Sun, the double sun, and the sun at night, were more difficult, involving spells with visualization (starting with rain rain go away…ending with Grey Clouds onHigh, be thou White! Water falling from Sky, be thou Wind!
In between would be various names verbally chanted and strung together like RaHeliosApolloEtc… I have the spell wrote down somewhere. Will probably find it settling in this weekend in VA.
Perhaps meditate on the following tarot cards:
King of Swords, King of Wands, Prince of Pentacles, Prince of Swords, Tower, Fool, Wheel of Fortune, Magician. Four by four square if you will. The letters produced in order from right to left as Hebrew…
PKBMPA
Main point is fire and air, mixtures there, and bridging it to earth.
Imagine archetypes
Where/how did you learn to do all of that?
If it's lightning, thunder, or rain you're after, I've personally had great experiences with Thör. During the first rain of the season I'll collect some and I'll consecrate a whole bowl of rain water to Thör, and whenever I want it to rain, I'll sprinkle it and call Thör's name. It had a pretty good success rate if I do say so myself. I've also had pretty good experiences with Skädi and snowstorms but she's a very fickle goddess. If you want to learn some really potent weather magick, invest in the Taoist system or talk to some Tree Spirits or River Spirits. I recently conjured a snow storm and it came out of the middle of a winter drought. The tree spirits just sort of told me what to do and what stones and sticks to arrange. So that's my ramblings on weather magick lol. Hopefully someone will be able to extract something useful out of it.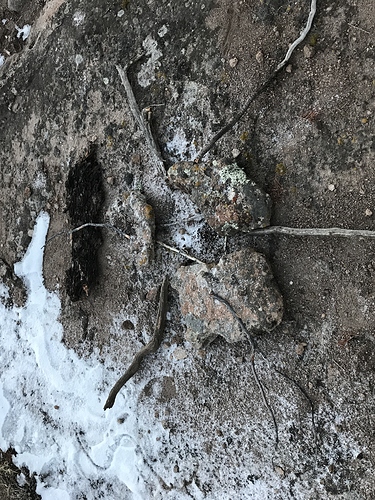 I almost dropped a tornado on my town using Daoist hand signs before I was experimenting with their energies and next day there was tornado warning out of nowhere for the whole town. My main interest is primarily controlling the location it hits. Mostly as a personal challenge and symbol of achievement. I have been working more in depth with runes recently and getting a feel for how their forces relate to the system of energy I tend to favor. Next good storm that comes around I am going to see I can get the lightning to strike something nearby probably the neighbors yard because they have a bunch of junked vehicles and metal lying about so I think it might be a slightly easier natural target to go too and easily observable as well.
I've only recently heard of Daoist weather magick from a YouTube channel called Lord Josh Allen. What books did you read to get the hand signs? My community is going through a drought and I would love to help out and bring snow.
It was Daoist Magical Incantations, Hand Seals, and Star Stepping by Jerry Alan Johnson. Found a pdf a while back on some site It had a lot of books on eastern energy techniques, Tao, Dao, Kundalini, you name it. I forget the site though but it was quite a find for me. Not sure how authentic the author is with his history in it but the material is authentic enough for me to almost call a tornado by accident just practicing and experimenting.
Sadly I often feel trees trying to speak with me, but I have no idea what they are saying. Are they softer spoken than other spirits or require a built up relationship?
I appreciate it and so will the farmers in this community

Taoism is so fucking cool.
I won't be responsible for any tornadoes so have fun. Also bit off topic in this category but I had a fallen angel tell me a sequence of some of the handsigns that somehow relates to teleportation type abilities. I wouldn't doubt that they could achieve that or at least that particular fallen could use them in such a way considering how overwhelmingly powerful an effect he had on the environment around me so there are a lot more than just elemental applications for certain more quantum stuff I would say.
@Narsonix The trees that spoke to me were old and kind of crotchety but in a funny way. To my mind they sounded like tree beard lol. They are harder to speak to for some reason but if you open your mind up to them it's easier. Fun fact: Tree spirits and land spirits in general hate Christianity with a burning, ulcer creating, passion. It's glorious. @anon47923162 I'm interested in getting more mobile in ritual, be it with hand signals, tools, etc. But I'm lazy lol.
@Narsonix I don't much talk to trees but in general the whole of an area especially if it is a nexus point and bodies of water I seem to have a connection with. It is more a communication through emphatic thought for me than actual words. Just feelings and sensation and senses with certain concepts. I attract the creepy mist, dark, and mystery type ones.
@FraterMagni Well hand signs don't require you to stand up usually. I do most my stuff sitting down. Gladr chants work very well too and you can be sitting for that so long as you can still breathe and vibrate it deeply. I favor a mix of direct energy control with hand signs, tracing symbols, and deep resonant chants or quiet slithery whispers for most of my bigger stuff. When I am on the go and just want to magically kick someone in the ass to speed them up like in a busy line or something I just throw energized thought or energy balls around with maybe some mental word or subtle fiddling of the fingers at my side.
@anon47923162 That's kind of similar to what I do at stop lights that stay red abnormally long if my incantations of "Fucking change, damn you" don't work. Galdr chants made me realize that I have shitty lungs haha
Lots of practice. I am going through each rune one a day and its basic chants. That is my project for the month with them and next month is more in depth blending of them.
Why do some human beings call themselves "Lord" (this or that)? What does it mean, and what system are they using? Are they Satanists?
I'm not sure. I've only encountered one magician who calls himself lord and he's a
Daoist.