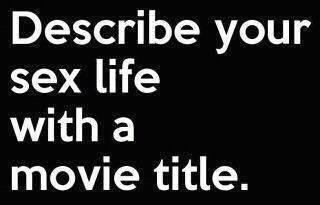 Saw
Hehehe hell yeah im into that kinky shit
Dark knight Rises

@DarkestKnight
Sorry couldn't resist
Lolita.

Grease
Cast away
Starship Poopers
Star Trek: Erection
Star Trek: The Next Penetration
Studsky and Snatch
Suck Rodgers in the 69th Century
Summer of 69ing
2069, A Space Orgy
The T & A Team
Tales from the Dark Hole
Tango and Gash
Terms of Endowment
The Texas Dildo Massacre
Su, you are supposed to describe your sex life with movie titles, not list your porn collection
Another title in my "porn collection", my friend:
Dr Do Me A Little. Actually, they do me A LOT.