Excuse me for the clickbait title

I am just gonna put my ordinary life here without trying to larp at all.But let's be honest,newbies magick is made of larping.
Why did I make this journal? To see my proggress.I remember in my last journal (excluding vampirism one) I started as a edgy kid, turned out more or less peaceful, and it wasn't even my goal at all.
My current goal? Just mundane things.Like having financial stability and more freedom through this.There is no need to look at the sky when you are chained to earth.
I am gonna base my works on Maslow's Hierarchy of Needs.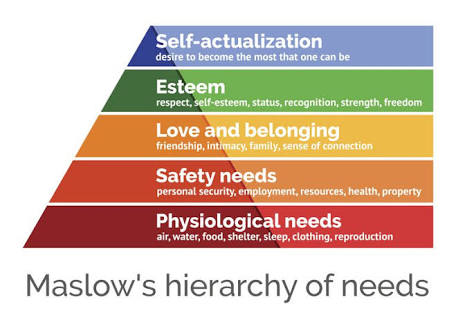 I am currently at the orange part of this,without going into blue I don't think I should see myself as a living god at all.
And what about my current state on magick?
I am just a 9 months old newbie,so far I have went through an incredible path,but compared to what will come in next years,it was only a tiny step.Thats why magick is so irresistable to me.
As a 9 month old practitioner,I am not sure if I ever contacted a spirit or not.I have had my experiences, but nothing supernatural.Maybe Frater UD can explain it better.
The principle that supports a more psychological explanation and believes that everything magical arises from deep inside the magician's soul itself is called anin1ism (from the Latin word anima, «soul,); the other principle that's based on the existence of real non-
human living beings (and those made up of subtle energies) is called spiritualism (from
the Latin word spiritus, "spirit").
I believe there is a fine line between these two, but I am at first part.
You are a fucking hero if you have read all through this.Will bump this thread whenever I have something solid.Dont worry I wont spam like some.