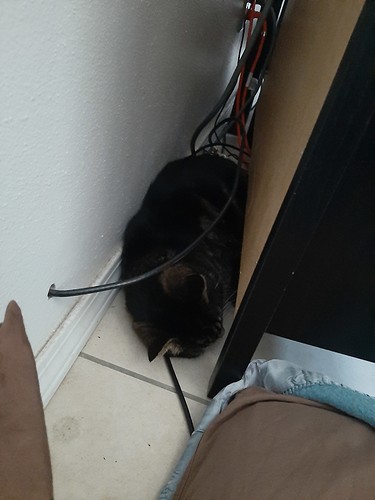 Shes resting now. She's safe. (DW about the wires. She won't mess with them.)
Thank you so much to everyone who's helped.
Thank you President Marbas and Lady Bastet for guiding and protecting my kitty. And thank you to the kind woman who took her in.
Ahhhh, congrats! I'm glad it worked out!
Thank you
Just when I think all hope is lost she comes back. I don't want to leave her side
I'm glad she's safe and good❤️
Me too
Glad kitty is back safe and happy to see she looks none the worse for her adventures.
After I saw this post I asked DarkestKnight to close the lost thread (after confirming kitty is found with you) because if she's home safe she doesn't need any more help being found anymore.
Awww I am so fucking happy for you man!!!
So happy to hear she was found!
Was following the thread, so glad and happy for you she came back :))
Thank you everyone. Your support has helped my baby girl come home. Now may there be peace
Thank you! I forgot about that
I'm so happy for you two.
That's amazing
Yes it is. She a strong one for sure
I've been through this so many times! I'm glad your kitty is back home
Me too. I'm so relieved. It honestly felt like I was missing a good chunk of my soul without her. Idk if that's dramatic lol