As you may or you may not know, On January 28, 1986, Space Shuttle Challenger broke apart 73 seconds into its flight, killing all seven crew members.
According to one The Naqshbandi Sheikh, Mr Yusuf Ziya Bursevi of Turkey, that disaster was a result of the Black Magic that his masters used against the shuttle. Their reason was simple; it was a shuttle of USA and USA was an enemy of Islam, and according to Islamists, innocent life at stake wasn't important at all.
Still the Sheikh is very proud of what they did if you may check the video and not giving an apology at least not for what happened but for the souls on board still; after so many years.
Indeed Islamists' view didn't yet change a bit, if you check his Facebook fan page for example, you may still see hatred and almost all kind of it, and magickal wars against Europe mainly Germany, Belgique Sweden Netherlands, France and UK sure USA and Israel are always on top of the list. They say they do fight against Western Civilazation in order to protect Erdogan which Western civilization look with envy, as the greatest leader of that time ( exactly what they say) , who made Europe and USA to fear and bend on their knees. (However all of that crap ara no more than a cheap propaganda, and no one envies him at all. This is the biggest kleptocracy of all times, and they did and still stealing huge money of their own country for their own luxury, for example Erdogan's wife owns 15 -25 % of almost all private hospitals in the countryand they came really from Nada and did all by kleptocracy. They ensure all the elections by cheating and there is no any independent judiciary of police force to stop that mess. By the way the secular part of the country, the followers of the founding fathers hate them and actually the country is on the brink of a huge financial, economic and social crisis)
Anyway if we return the magick, the Naqshbandis are a major Sunni spiritual order of Sufism and said that they use the collective power of the community similar to a coven and on that particular event, the Challenger Disaster they have also summoned an entity from Quran namely Al Khidr . They are still very powerful in Turkey, and Erdogan, the pres. of Turkey is also an ex member of that order. You may find the video here below, according to Sheikh, they have summoned Al Khidr probably along other entities so as to ensure the disaster which killed seven NASA members.
Al-Khidr is a name ascribed to a figure in the Quran as a righteous servant of God The figure of al-Khidr has been syncretized over time with various other figures including but not limited to Sorūsh in Iran, Saint Sarkis the Warrior,Saint George in Asia Minor and the Levant, and John the Baptist in Armenia. It's worth to understand how to summon him and how his powers are used.
The video is here below.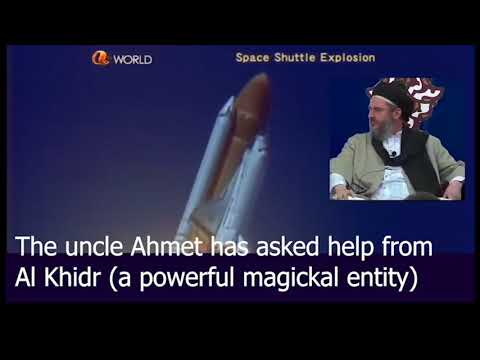 Information about Al Khidr :