I found out about the fairy queen Sibylia from author Arundell Overman's pdf work. He wrote about the method of conjuring her, as it is described in the Discoverie of Witchcraft, 1584.
Here is an illustration of her by Ville Vuorinen for the book "Magic Circles":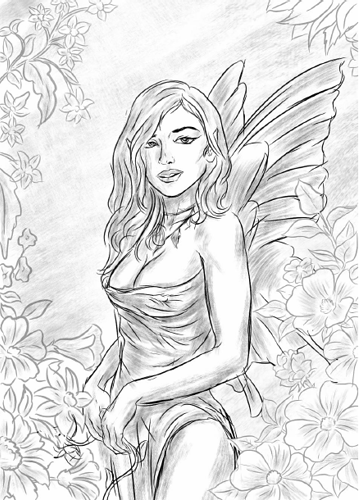 and her seal:

There is a lengthy conjuration in the book, but here is Overman's note in his pdf:
"Note: There are many points to look at closely when examining this ritual. Notice that the fairy is called by both the name of Jesus, and Tetragrammaton, meaning Yahweh/Jehovah, the name of the Hebrew god, and, by "the king and the queen of the fairies." This would almost seem to hint at earlier Pagan roots of the ritual, where fairies were invoked by the name of their king and queen. Some people in the modern age, being of a left-hand path orientation, might choose to completely rewrite the ritual, leaving out or replacing the Hebrew names with those of a Pagan or Satanic theme.
The fairy is a Pagan spirit, yet the ritual describes summoning her through obviously Christian conjurations and names of God. On one hand, the person calling the Fairy seems scared of her, that she might do him harm. On the other hand, he is asking her to have "common copulation" with him, meaning sex. This is very curious, but behind it, is the idea that the magician is invoking a fairy to be his friend, and his sexual partner, and magical helper, as the following invocation shows. Whoever would be bold enough to invoke a fairy, should be kind to them, treat them as a friend, and offer them gifts. Do not think that you could force them to do anything, rather, treat them as allies and friends, offering gifts, and speaking with respect. The Fairies give a ring of invisibility."
As with any entity, I will try to use the TGS method to invoke her and sleep with her sigil to try to contact her in my lucid dreams.