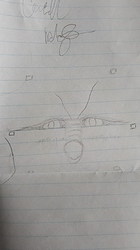 greetings and salutations, fellow terrans!!
my name is cc, and i only practice my own personal brand of magic, whatever calls to me, i will attempt to integrate. i have had many, many personal experiences with demons/angels/aliens, but not physical interactions. don't think i'm quite ready for that yet!! haha, but maybe soon,
:・゚✧
:・゚*:・゚✧*:・゚*:・゚✧*:・゚*:・゚✧*:・゚
thank you for allowing me to join your community!!
Love & Light
。:+.゜ヽ(*′ω`)ノ゙。:+.゜ヤッター
P.S. anyone recognize this guy?? i drew him while looking thru several mirrors,
:・゚✧:・゚*:・゚✧*:・゚*:・゚✧*:・゚*:・゚✧*:・゚