Happy Birthday

I will do some magick for you to make a version of this song :')
Thank you

Happy birthday
Happy birthday!

Happy birthday! I hope this year brings you more growth then your last and great prsoperity in any field you choose.
(This is the coolest day to be born on FYI)


BALG forum right now

: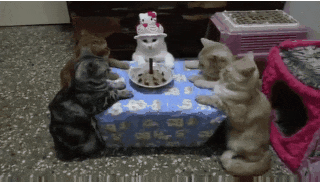 Thank you
Thank you .w.
I just say thank you x) I have to find another way to thanks people ahah
Thank you
that really good things that you wish me .w.
ahah but atleast I dont regret any of the year I have been on this planet
Why is it a good day ?
Happy birthday, hope you have a great one.
Awww .w. I hope there is enough cake for everyone ! Let's do a mix cake made of vanilla cake, chocolate cake, carrot cake, cherry cake, anything ! A cake made of all cakes in the world xD like that nobody could say "but I don't like this :v" you will all eat my fucking birthday cake è-é
Thank you ^^ so far it is !
And because I live during Night, my birthday will be during 2 days ! XD
Have a very very happy birthday
Happy birthday
have some