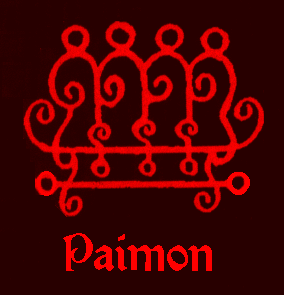 Ahhh … the seal of God Paimon … and what he is and why, where lives the king who is a God or a God who is King, what he likes, whether he marries or separates, so many questions and So few answers, but let's break through those backlands that make up the story of God and King Paimon. I'm going to cause controversy, according to him because people don't like to hear the truth, that's what he's telling me now. But as always he likes to throw me in the eye of the hurricane, lol … But he does it because he knows I survive, and he's always with me, so it's all right.
PART ONE OF THE TOP TOP STAMP:
We see what appear to be four people next to each other, with hands that are represented by a semi circle as if those hands were open asking for something …
"They represent the FOUR GREAT RACES and THE FOUR ELEMENTS, which according to God Paimon are closely related. See:
THE BLACK RACE: EARTH ELEMENT, therefore it is directed to the northern cardinal, with all his attributions.
THE RED RACE - FIRE ELEMENT - Southern Cardinal Point and its correlates.
YELLOW RACE - AIR ELEMENT - East cardinal point and correlates.
THE WHITE RACE - WATER ELEMENT - West Cardinal Point and correlates.
Each cardinal point is related to a God / Goddess and a King. In the case of God Paimon is related to the West Cardinal.
WEST CARDINAL GODS: LEVIATHAN (GOD ANUBIS) AND ASTHAROTH (INANA GODDESS / ISIS) - GOD AND KING TUTLE: PAIMON OR PALEMON HIS NAME IN GREEK MYTHOLOGY IN EGYPTIAN MYTHOLOGY HE IS THE AMUN GOD, NOT CONFUSED WITH AMON That is another. SO CHILDREN THE NAME PAIMON … UNDERSTAND? NOT? I EXPLAIN:
PAIMON = AMUN WHICH WAS CALLED BY HIS DEVOTEES FATHER - AMUN OR BE PAIMUN, JUDGE MADE THAT MAKEUP AND TRANSFORMS IN PAIMON TO CONFUSING HIM WITH AZAZEL THAT IS ANOTHER GOD. FATHER TO EGYPTIANS IS GOD. WAS IT SIMPLE TO KNOW ABOUT GOD PAIMON? GOOD SURE HE TEACHES ME MUCH BUT ALL WELL RSSS …
SECOND PART OF THE CENTRAL FRAME:
We see a formation that looks like a boat … and it is. This is the BOAT MAGILUM, which according to Egyptian and derived mythology took souls to the next world, going where even? WEST CARDINAL, the land of twilight and sunset, known as THE LAND OF THE DEAD, whose tutelary God is Anubis the god of the dead, and amazed: God Paimon is not the angel of death as they say, but the SOUL HARVESTER, so beware rsss children …
Just kidding if you don't talk obscenities about him, and vulgarities he hates, you'll have a good reception believe me. Now who uses his name to promote himself is already blacklisted he told me.
AND WHAT DO YOU SAY SPEAKING IN HIS NAME, UNDERSTAND: WHEN HE WANTS TO SPEAK WITH SOMEONE HE CAN DO THAT ALONE, GOD SAY PAIMON HE KNOWS TO SPEAK, BUT HE KNOWS THAT HE STILL DIDN'T KNOW THIS, " TOLD ME TO SAY SO FULANO, "THIS IS A FUCKING THING AND HE HATES THAT. When someone evokes him and there is no answer don't worry he heard, may not answer on time, but when you are prepared he will answer and everything is resolved.
LOWER FRAME:
There is a line ending at two circular points, representing the boundary between two worlds, life and death, the veil of Isis, that moment that you are dying and the transition from the earthly to the spiritual world occurs. This moment happens in nature when we have twilight, ie the transition from day to night. This is the time when God Paimon is closest to the earth.
Come get your almonds rsss … well come on.
We see that around and beside the seal are winding lines that represent kundalini energy, Chi or vital energy as you please, Jehovah's energy snack.
I will not go deeper now because he does not want, but already a good start for you … I was …