I know the magickal stuff is working, but I'm going to want to see some real evidence and convictions before I get too excited about this specific event, because setting something up, creating grassroots awareness, and then "debunking" it loud and clear would be the kind of false-flag fuckery certain groups tend to thrive on.
The work proceeds anyway.
You're so right. Dave Hodges seems to post only what he can verify. He seems level headed.
But the real question is, "Why was this report released by it's source to begin with".
Whoah check this out: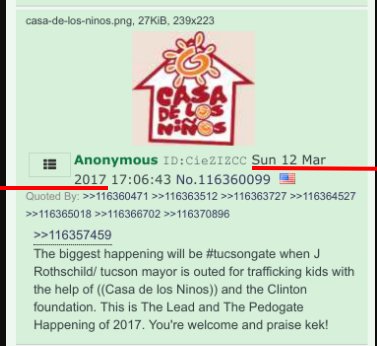 Original post: https://archive.4plebs.org/pol/thread/116357459/#116360099
People with insider knowledge sometimes leak this stuff in advance so it can get discussed, and help Joe Normie adjust to things. This has me slightly more convinced this is a legit happening of importance.
The CF is only an hour drive away from me. It's scary to think how close this kind of stuff really is. Most people shake their heads in disgust when it comes up on the news happening somewhere else and then go about their day just hunkydory but that foundation is doing this stuff in my own back yard so to speak
Stuff happening right under our nose. Just hope more of these crooks get caught
Agreed. Sending that message to the powers that be.
Passing this along tonight.