Is there anyone who overcome this "dark night"?
How is the life after Lucifer tests?
Before creation comes ruin…
Young me, full of wonder and ideas of what was.
Did my initial dedication and first ever working around 14. Life was not kind. I'm 30 now, it's still not. However I'm stronger than I ever thought I could be. I can handle diamond levels of pressure. Physical and emotional pain have become such a non-issue I don't even notice most of the time.
Working with Lucifer will change you, it just may not be the changes you want, in the time frame you want.
That's the thing most people seem to forget, these beings don't have to help us. So their methods we must accept if we want the rewards.
Sorry for getting on a tangent there, but the best I can tell you is persevere.
You will pull through.
You will be strong.
You will be new.
Your level of destruction is essentially all up to you. If you have allowed yourself to be led through life and have strayed so far from the path you truly intended to walk then I think that you could experience much undoing.
@Painon, I am curious on your quote
What exactly do you mean by this.
Things must be destroyed to be rebuilt.
People, psyche, spirit, objects. Anything.
also, I stole that quote and co-opted it for my own ends.
'Merica.
Thanks for explaining, my mind was creating all different kinds of scenarios of what that meant
I'll explain my weird shit and non-sequiturs anytime I can!
I went on the self destructive path only to discover nothing was wrong with my life.
You are now experiencing "The Tower"…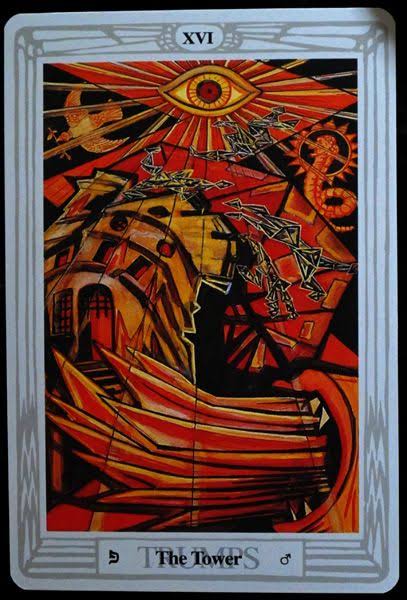 "The Tower Tarot card represents chaos and destruction. It is the Major Arcana card of sudden upheaval and unexpected change. This change usually is scary, life changing and often unavoidable. You don't know how you will survive but somehow you will and later you will realise that while it was a tremendously difficult thing to go through, it has made you into the person you are. One positive aspect of The Tower is that the destruction it brings is usually directed at something that was built on a false beliefs and foundations or unrealistic goals and dreams. Also on the bright side, the destruction The Tower brings is always followed by renewal and creation".
Thank you. So that is what it is. I shpuld've just trusted Lucifer.
I am so stubborn to resist change even when it could be good.
Jist because there new coming in doesnt mean you have to plunder into chaos. Keep your head above the water, itll make the storm easier to navigate. You're rowing up stream when you need to figure out how to get out safely before the water fall.
In the future you will see the great blessing that was brought from this destruction. All that no longer serves you from the mundane world will be stripped bare.
I continue to work with Lucifer and Belial, and the challenges have been great, scary, and will push your strength to the brink.
What you will achieve is a greater understanding that you are awareness, above anything else.
You will create order out of chaos. Then you can recreate your physical world to a much more pleasant one. Life can be comfortable and abundant, but you will build it from a vantage point of a god-self. That is the difference from when you began your journey, in my opinion.
Lucifer has a serious habit of shining lights into your darkest areas of your life.
He will 100% illuminate all of your failings, and he will expect you to correct those issues.
Stare deeply into your areas in which you are lacking, and fix what's broken.
Well, I overcame a suicidal depression, got my kids back, got rid of a toxic relationship, and now I'm making more money at a new job. I'll let you decide if that's a good or bad thing.
When I started working with lucifer, same thing happened, it only effected my new relationship with a guy, I seriously wanted everything to be happy, but this guy started making my life really hard and made me cry, and the relationship fell apart so fast, lucifer told me I deserve better and I should not run to this guy who makes me unhappy