I recently received a bouquet of roses with mint and wildflowers. There were some flowers that were too short for my vase, so I decided to dry them and store them for dressing and offerings. I could have used my dehydrator, but I was worried about what it would do since it's an Instapot.
Updates to Setup

I am a fan of flowers, so I have recently expanded everything.
Anyway, I wanted to share some information on the process that worked for me. Their flowers came out much prettier than mine, but I didn't need them for any purpose other than to grind up into powders or "confetti" sized pieces.
Tools

Oven
Cookie Sheets (I used 3)
Oven mitts (those heifers are hot)
Process
I preheated my oven to 170, then added the flowers after it was preheated. The tutorials say check them about every 15 minutes, but I'll admit I had to check them far more often than that. I didn't use parchment paper or anything on the cookie sheets, so I'm sure that had something to do with it.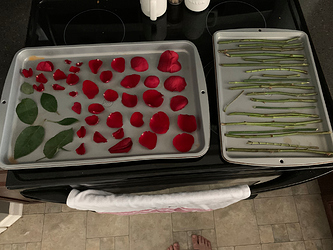 I thought they were pretty. Pre-drying.
I flipped the flower buds about every 5 minutes because they dried up quickly. After about 10-12 minutes, these were crispy and ready to be added to mason jars. I stored the stems in jars as well-- and stored all the components in their own jars (leaves, petals, stems).
It's not anything monumental, but I wanted to share it anyway. It's part of my whole "trying to reuse things instead of throwing everything away" phase I'm going through right now.
External Articles (Sources)

Some preliminary research sources I used: