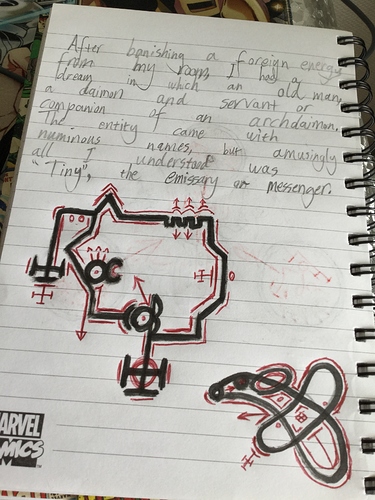 I had a dream in which a wrathful yet lusty demon approached me. He had two forms, both similar. First form he appeared as was a tall and incredibly handsome man wih long well kept flowing white hair, kinda looked like Sephiroth from final fantasy mixed with leone abbachio but alot more dark and bloodthirsty looking. He weilded a large machete and came on a tide of screams. He was very wrathful, yet lusty in his second for, which was him clotheless having red skin with blue tiger stripes. He approached me flirtatiously, and his name was "Asmo". Now a demon of wrath and lust, both traits of mars, one could only assume that this is asmodeus.
The dream cut to me invoking asmodeus in a ritual with many sigils. Until, 2 new sigillum took form and at the top of my dark staircase was a very short, timid, and shy elderly man who appeared donning the sigil aforesaid. He had many names but one that stuck out was "Tiny" for some reason. He had given me some important advice…, and it pisses me off that I don't remember that important advice. I know that it was to help me invoke "Asmo" but thats about all.
Reading up, the sigil sort of matched Amy's from the goetia, and the descriptions match up sometimes too. There are few discrepancies though, why would amy appear as an elderly man, and why would he be an emissary or messenger of asmodeus? Too many questions left unanswered, and I would like to find the identity of this nocturnal spirit. Any methods how when all I have is a form and a sigil?