In a dream about 3 weeks ago. I got a message along with an image of an armoured figure. The message was:
"These spirits are usually given to chaos Magicians. Use them well." - this part doesn't make sense to me either.
It sort of looked like this: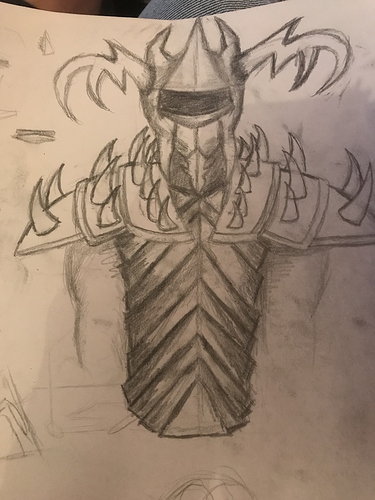 I've been trying since then to draw this being, and with the help of an artistically inclined friend who pointed me in the right direction when drawing the image. To get the shadows and such right. But I did the actual drawing, I should mentioned the seniorer was covered ina very bright violet color, all over. The tdeeper the shadow the more deeper violet thw armour became. As you can see I am not an artist at all. I am interested to see if this experience was just a brain scramble, or of this is an actually something more. I get the feeling that this is more than just a brain fart just saying.
The image was delivered in a black background surrounded by a neon blue hue. Makes me think I experienced a lucid dream. Except I have never experienced one myself so I wouldn't know, this is a tricky scenario to me because I have never experienced anything like this, plus dreams aren't a clear path of validating stuff like this.
Personaly I think this might be set of spirits of an unknown class, or at least not something I've encountered: angel, demon or elemental, div, etc. more work is needed on my part to connect with them if that's the case.
Grateful for any inputs, sensations, etc.