Intro
This is the COMPLETELY Qlippothic Version of the LBRP I created that centers around Thagirion, the Qlippothic sphere of The Black Sun.
I will make this as Conscise As Possible for beginners lol.
Synopsis:
♤ You Will Draw 4 Inverse Pentagrams in the Air
♤ They Will be Drawn in the North, East, South and West, progressing around the circle in those directions
♤ Each Pentagram will Have the Glyoh of its Associated Planet Drawn in the middle.
♤ You will vibrate the Name of the Sphere associated with the Planet.
♤ At the end, You Will Invoke The Black Sun into your Chest and Give the Sign of Baphomet.
Details:
Spheres Involved
● Thaumiel (Neptune; Choronzon; North)
● Satariel (Saturn; Binah; Lucifuge; East)
● Thagirion (The Sun; Black Sun;South)
● Gamaliel (Lilith; The Moon; West)
Instructions
1.♧ Face North and Draw the First Inverted Pentagram in a Off-White Color of Energy. At the SAME time you draw the pentagram, Vibrate the Word "Thaumiel"
2.♧ In The Center of the Pentagram draw the Glyph of Neptune and at the same time Vibrate "CHORONZON".
The Glyph of Neptune looks like this: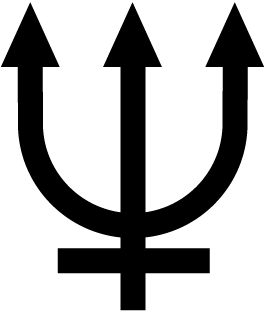 3.♧ Move to the East And Draw a Inverted Pentagram in the Color BLACK while Vibrating The name "Satariel".
4.♧ In the Center of the Pentagram, draw the Glyph of Saturn in WHITE colored energy and vibrate
"DagDagiron"
The Glyph of Saturn Looks like this: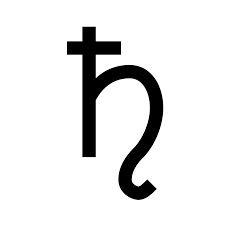 5.♧ Move to the South. Draw a inverted Pentagram in the Color GREY. Vibrate the Name "Thagirion".
6.♧ Trace the Glyph of The Sun in the center of the pentagram in Blazing Orange and Vibrate the Name "SORATH"
The Glyph of the Sun: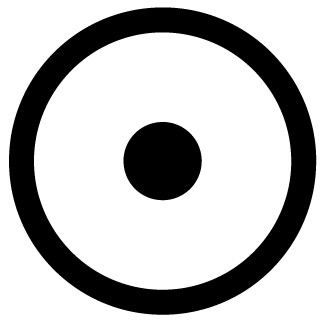 7.♧ Move to the West Finally. Trace a inverted pentagram in the Color Dark Blue and Vibrate the Name "Gamaliel".
8.♧ Trace the Glyph of The Moon in the Center of the Pentagram In Silver color energy and Vibrate "Schimirion"
The Glyph of The Moon looks like this:


9. Face the North.
Say,
● Before Me, Da'Thiah!
● At My left, Sat'Diel!
● Behind me, Thad'diah!
● At my Right, DaGa'iah!
Draw a Inverted Pentagram in front of you in Red Light.
Focus on your Heart Chakra and Vibrate THAGIRION
Vizualize the Black Sun and its 12 rays shining from your Chest.
Proclaim,
Before me flames the Inverted pentagram…
And within me shines the Black Sun!
Make the Sign of Baphomet
(Make fists with both hands. Cross them before your chest in a X. Release them so that your hands/arms are like Baphomets.)