Just throwing some ideas out for a Sunday…
I started doing magick very young, I remember aged 8 as one example and I know that was the age because we moved a few times and I know where we lived.
As a kid, all I had was what i could derive from books (like The Moon Of Gomrath), my dad's Dennis Wheatley novels & old Pan paperback horrors, and TV, and especially, Hammer Horror movies, which were on broadcast TV in the evenings, and then we had some on video later on.
Also, my mum had this book, this cover, sat on a bookcase, and I saw it every day: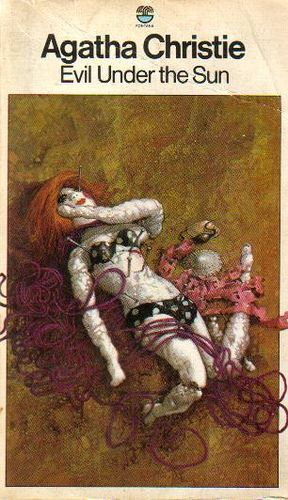 So, firstly, I realised that the half-assed religious teaching we received in school (mainly, "Do unto others as you would have them do unto you" - which I liked then, and still respect as a guide to everyday interaction now) was being majorly ignored by everyone from my classmates, to my family, to global politics, and also the thing where the meek and mild Baby Jesus in the manger (they never explained the French word manger, I actually had that confused with mange that makes an animal's fur fall out for ages) turned into this nutcase who'd send you to hell if you saw spirits, wanted to divine the future, or believed in other gods - all of which, I did.
And that people seemed to worship him, yet you should only have one god.
I dismissed it as a total paradox, and yet part of me was still always afraid, "What if they're right?" - because hello, little girl there, risk assessment skills not fully developed.
I wanted more than just this physical world, I was already aware of and accessing that "more," and I didn't understand why the ONLY formal metaphysical teachings I seemed to receive told me that I'd be damned to hellfire (or dismissed as crazy, in the straight world) if I explored them.
And then add onto this that I didn't know that magick was a real thing that other people did, but then again lots of other stuff in my childhood that I won't bog this post down with made that an irrelevant marker of my own place in the universe, and my own capabilities.
I was liberated! I didn't know it at the time, in fact most of my childhood was pretty miserable, but I was liberated from the dual deceivers of homage to any kind of monotheistic "God" and also, I was intrigued and tempted by magick as a practice, without any constraints placed upon what I could or should do, I kind of knew right away that I had to make things up for myself on flimsy frameworks.
And I did.
And after a while, they started to WORK.
I'm typing this off the cuff, I have other stuff I'm behind on posting but the lengths I see magicians go to looking OUTSIDE themselves, no, please don't do that - you can make life-changing, and world-changing, magick with just a few seeds and your own glorious mind.
I did.
You can.
Take what you have, take what you want, and bridge that gap with your own creative abilites, just like a scared skinny angry sad little girl did.
It's the best way IMO.