I was inspired by @Anziel_Merkaba to start binding to objects. Thank you for your inspiration.
Last weekend I bound 5 elements to a bracelet. Fire, Wind, Water, Earth, Void.
The operation was a success.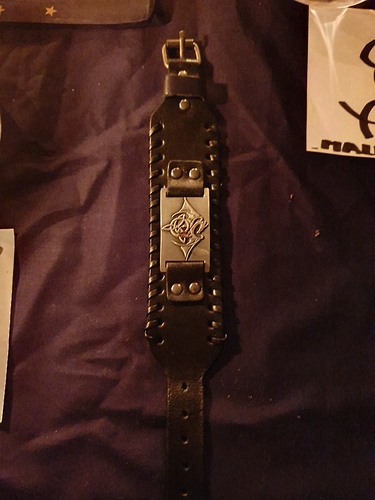 I put the bracelet on and immediately felt energy spiking with slight pain up my left arm. Going to sleep on the first night with the bracelet on woke me up during the night being within each element. I dreamt of them.
I'm a water element but with the bracelet on, the fire element is activated more so. My energy feels more firey, I'm more energised. I have also noticed a shift when using void energy, which I immerse myself in to rest and recharge.
The other elements I can conjure energetically through my body, they don't seem as dominant though.
It made me think. Why do we bind things to objects? Can we do it to ourselves? Augmentation of the physical body. A way to power up.
I figured it would have a bleeding effect on the wearer. And it has. In a way its a way to test the waters before applying them to the physical self.
With permission from the rulers of each qlipha I asked if it was okay to bind the energies of each qlipha to the bracelet.
Doing belials black alchemy I've experienced the qlippothic energies as a whole coursing throughout my body and energy field. I would conjure these energies at night, goto sleep bathing in these energies, then release them the next day.
It's a energy I feel completely comfortable being in. Again the idea of binding them to the body permanently. Permanent gateways within the self. Though I get a sense performing belials black alchemy will also have a bleeding effect on the subtle bodies eventually making it permanent.
Update.
Thought Fuck it, and went through with binding each qlipha to my body tonight. And also to the bracelet. Already asked if i should do so.
Started with Nehomoth and went up the tree. The qliphas at the top seemed to be harder to bind on the bracelet.
The energies seemed to push out more towards the end. When I got to Thaumiel binding to my body. Had a kundalini rising experience. Head orgasm. Was hard to concentrate.
Then i had to the bind the 22 tunnels of set. After id finished body was rocking back and forth seeing the tree of death flashing behind my closed eyes which were rolling back in my head. As a voice said "It will settle" true to the voice, it did settle down not long after.
Will have to wait see how i feel tommorow. Not sure how i feel now
Pick of the bracelet now