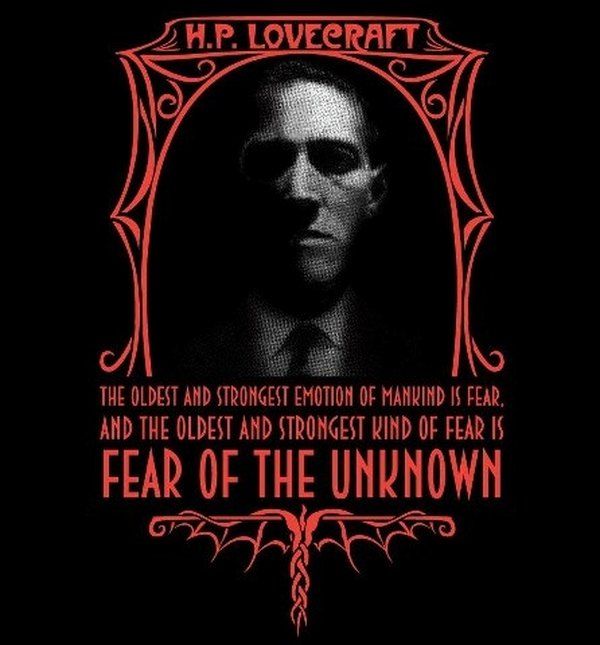 The intellectuals of today, and perhaps the past two thousand years (the primary, influential post-Socratic thinkers with the exception of Martin Heidegger and Friedrich Nietzsche), have approached the question of existence with either a complete severance from anything outside of that which cannot be conveyed with language (Theodore Adorno, John Paul Sartre, Bertrand Russell etc.) or the foisting of such difficult ontological questions onto Jungian archetypes and mythological figures (that have not yet been authenticated beyond us) by the likes of Christian theologians and even pagan spiritualists. Both of these approaches have lead to two thousand years of ignorance and mercy on the mind.
Howard Phillips Lovecraft was an American horror and political writer who had a surface-level understanding of acausal existence which became known as Cosmic Horror. A running theme throughout his works was the protagonist finding themselves confronted by pure existential horror, the struggle to comprehend abstract organisms and epistemologically and phenomenologically forbidden events, locations, sounds, feelings and realities, above any form of Newtonian physics or thermodynamic laws.
The following excerpt from Call of Cthulhu, paragraph 1 of chapter 1: Horror in the Clay, elucidates his basic knowing of the acausal.
"The most merciful thing in the world, I think, is the inability of the human mind to correlate all its contents. We live on a placid island of ignorance in the midst of black seas of infinity, and it was not meant that we should voyage far. The sciences, each straining in its own direction, have hitherto harmed us little; but some day the piecing together of dissociated knowledge will open up such terrifying vistas of reality, and of our frightful position therein, that we shall either go mad from the revelation or flee from the deadly light into the peace and safety of a new dark age."
It is clear from this excerpt that H.P. Lovecraft feared the acausal or the "black seas of infinity", and the truth or reality it holds. One statement that is very hard to overlook is the assertion that one will go "mad" from this truth. But even Lovecraft, a mystic who had achieved a level of intellectual flux that would send existentialist philosophers in a fit of rage was working, unknowingly, within the confines of language-only-permitted epistemology. What does it mean when one is mad in the neurological sense? "Mad" is a term used to describe forms and manifestations of schizophrenia or psychosis by those who lack knowledge in such medical proximities. A patient who has schizophrenia is characterised by the act of producing kinesthetic, visual and/or auditory responses to entities, events, sounds and memories that are not real. This matter of what is "real" of course is determined by medical professionals who unknowingly place their entire perception of existence within the comfortable barriers of language. When broken down and ego is put aside, "mad" simply means the perceiving of that which is not there.
When something is "not there" does it mean that the subject in question does not exist? Well, yes, it does. But time is not lineal. What "exists" changes with time. Something can exist in a different location, under different circumstances, surrounded by different variables and influences, while simultaneously not existing in another location or time.
There have been several occurrences and reports of the phenomenon known as "Deja vu", the temporary process of thought which produces the following question: "have I been here before?" "Have I been here?" contains a few knots that need to be untied. Firstly, "have I been here?" includes events, actions, choices, people aeons, not just geographical locations. Secondly, the implication of a human in relation to these variables is both one of non-existence and existence. Inexistence and existence are two sides of the same coin. If one remembers a holiday with family for instance, it is a true that one existed in that location, at that time but no longer does in present time. One both exists and does not simultaneously.
Looking at the word "inexistence" prompts 2 questions:
"In" is short for inside. Inside is the opposite of outside. Does this mean "existence" must be the outer and "inexistence" must be the inner of something vaster?

what state or form is that which is inside existence and does it have one?
Using the Uroboros symbol, which depicts a serpent or dragon eating its own tail, the truth begins to become clearer. The dragon or serpent eating its tail depicts cyclical time - that which has been will come again. But depending on the variables and conditions which influence the dragon or serpent at that present time, that which will come again will be manifested differently in another location or aeon depending on the conditions of that location or aeon in present time (reality).
If that "which is" and that "which has been" is equated to inexsistence and existence, it can be determined that inexistence is inside the serpent or dragon and not outside (existence). Thus, it has no physical form, no name, no discernible purpose or motivation – it does not exist, it is pure potentiality. Yet, it is still part of the tail which exists and always will be. My theory is that inexistence is the acausal or "black seas of infinity", that which is beyond the space-time continuum - that nothingness (non-existence) is an unknown, different and unlawful form of what non-intellectuals and theologians define as existing (what we do everyday) with infinite reality and universes.
"Theosophists have guessed at the awesome grandeur of the cosmic cycle wherein our world and human race form transient incidents. They have hinted at strange survivals in terms which would freeze the blood if not masked by a bland optimism. But it is not from them that there came the single glimpse of forbidden aeons which chills me when I think of it and maddens me when I dream of it. That glimpse, like all dread glimpses of truth, flashed out from an accidental piecing together of separated things—in this case an old newspaper item and the notes of a dead professor." - H.P. Lovecraft
A grandfather clock chimes at 21 minutes past 3 in the morning, a child screams, and a street lamp flickers, revealing the shadow of pulsating, thrashing tendrils which were just seen in the nightmare before one abruptly awoke…
Are they just random events that one is misinterpreting or is this the accidental piecing together of separate things to reveal terrifying vistas of reality?