Hey! What's happenin'?!
Greetings all
My name is Cosmic and have been lurking here for a little while now. I hail from The Great White North eh! I came across BALG watching some of E.A. Koetting's YouTube videos. Awesome stuff! You Rock Good Sir!

As a teen I started down the left hand path so long ago. Then I met a girl in high school. Married that same girl and started a family. So suffice to say I made a u-turn. Ended up divorcing. It's been a dozen or so years since that ended.
I have been spiritually awoken for almost ten years now. During that time I've felt disconnected from most of society. Lost and not knowing where I was headed. Part of that problem was also not listening to my inner intuition. I always heard it but never took that first step. Still struggling with that but I'm more in tuned with it now and do listen and act accordingly. The journey I've had with self discovery has seemed like a long road that never ends asking myself "Why does this keep happening to me?" The answers have always been there but once again I chose not to listen. I'm in a pretty good place now mind, body and soul. I tend to walk in balance with most things.
I've felt Lucifer calling me for a very long time but I never payed much attention to it or if I did it went in one ear and then directly out the other. This past Oct 2018 I began hearing him loud and clear. There was no mistaking it. He has spoken to me through music I listen to and shows I've watched for example. I stopped smoking pot last week and rarely drink. Having a clear mind has helped immensely with receiving those messages. I am on a new path now. One that I welcome with a warm embrace. I've found my new tribe to grow and learn with. He's been awesome so far. He's now my guide and teacher.
I signed my name in Blood with Lucifer under the Blood Moon two nights ago. The whole ceremony went really well. He agreed to work with me and has set out some tasks for me to accomplish.
Leading up to invoking Lucifer that night I burned his sigil into my journal. While I was burning it in I repeated his enn over and over. The desk lamp on my computer desk where I was working flickered on and off the whole time. Whoa!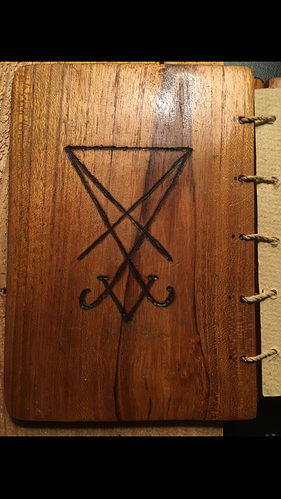 I'm interested in all magic. Working on the basics right now with a few spells under my belt so far with success.
I've contacted Lilith twice now and both times she has come through for me. The first time took 2 days. The second time was over night. I made an offering of Blood with that one. I was still on my 1st cup of coffee that morning when she delivered. She's so awesome! I look forward to working with her some more.
I have talked to Bune but I have some legwork on my part before anything will manifest. I look forward to working with Bune as well.
Lucifer has already begun helping me with things I've been struggling with. Daily meditation is one of them. He made it very clear it's to be done daily. It's no longer an option for me to leave it for another day.
I'm excited now to be a part of this community. I look forward to meeting everyone.