So I've been reading the circles of different forum members.
I got mixed up on my list and gave @Lotuslouvena a second reading. After doing so I realized the reading were very different. .
I could not figure out why so sent her a message asking if she had done different magick or was something up the second reading was about flowers and spring time and twilight and inbetween time …
I almost didn't send it because it felt so nice and sweet I was worried about sending it to a black magician.
So I sent the message asking what changed?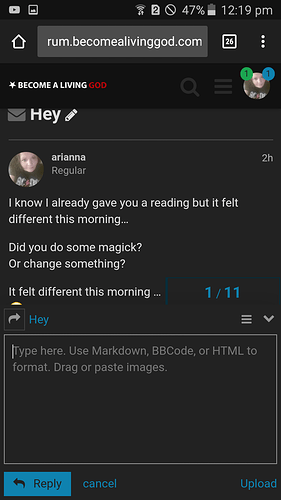 I found out that she is expecting a baby in two months… I was reading the baby
I'm so amazed and blown away…
I had no idea I could do this…
I had no idea I could see a mother and a baby.
I was honestly doubting myself…
But it makes so much sense now the twilight the inbetween …pregnancy is inbetween. …the spring time when things are being born and coming alive…
She's due in the spring …
This is what makes it beautiful

I feel so connected. .and in awe…
I already love this baby such a beautiful soul