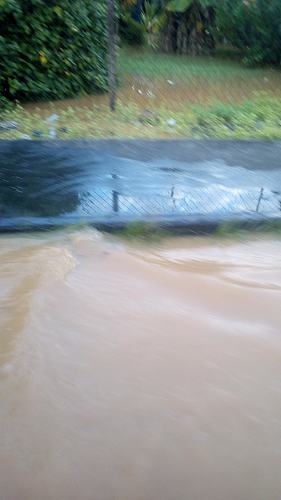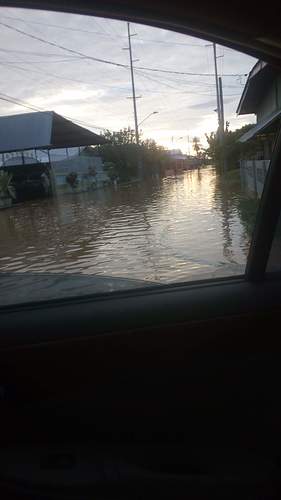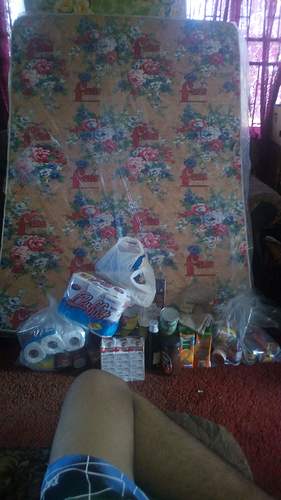 I live in a small village in the caribbean. It's a low lying flat land near the swamp, so we were always susceptible to flooding but according to my parents the last flood that happened in the village was 20+ years before I was born so before the flood in 2019 there had not been a flood in my village since 38 years ago.
In a september of 2019 I had been reading a book by professor Jerry Alan Johnson on taoist weather magick
but was confused so I dropped the book and went back to watching youtube videos.
On one channel there was a wiccan wish ring spell that specifically called for the ring to be submerged in water and petition the gods and goddesses of water. That video held my interest so I submerged my amethyst ring in florida water and tap water and said the whole evocation and mote it be's. three times.
3 days after the spells and a request for money, The first flood in 38+ years happened and I was confused as duck but strangely happy. It was magical at how beautiful everything looked and I had the best naps, while falling asleep to the rain.
The adults and government made a huge deal of the flood and understandably so, with the government stepping up its stance on global warming.
Sand Bags were given out for free to block out water for coming into peoples homes.After the incident,those sand bags and a few from other households that were donated to us to rebuild the house we were building since before the whole flooding.
We also got a tonne of donations including three weeks of charity food and non perishables by companies using the flood relief to write off taxes and some religious entities. Even 2 mattresses for (3) people! The picture I posted of the stuff we got doesn't do it justice, We got more stuff at a later date that I just wasn't bothered enough to photograph.
I got to skip 3 days of unimportant schoolwork, which helped my mental health and got a great workout packaging and moving our property to safer places.
We got a tonne of compensation money (a ton of unimportant antique stuff and a few expensive items that were in disrepair was damaged during the move.Since we were rebuilding our house, some debris gave us the financial sympathy of the insurance inspectors)
Dad and the other men in the village had themselves a lime( a get together ) for the first time in a long while.
The village was overall more merry and united than it had been since Diwali pre pandemic.
There was nothing bad about that flood at all as far as I know for anyone in the village.
People were trapped in their house but a large number of them are pensioners including my parents, who usually don't leave their house ordinarily, those who weren't were able bodies people that could thread through the water for groceries and were neighborly enough to buy for other people.
Most people have a very rural land so the flood water dissipated into the flora and dirt so that whatever excess water was left was manageable.
A poor family renting near us had their clothes whetted and the apartment floor flooded with water but again no damage, only needing a good cleaning for everything.
They moved out of their apartment anyway to a cheaper place in a neighboring village closer to their place of work and held greater convenience towards them. They were compensated as well.The wife of that family got a promotion at work because of various factor regarding the flood (superiors not being able to come in, sympathy, shortstaffed) and since they lived near the workplace, they got some additional paid responsibilities.
A few people said we took advantage of the government and insurance agencies and charities but I disagree.
It is a fact that we were trapped in our house for three days. As much as I celebrated missing school, that is not a good thing in my parents eyes and the education and legal systems eyes as well.
The destroyed and damaged stuff were legally under insurance protection regardless of the percieved value my family placed on them. We did not purposely try not to preserve them or purposely destroy them for insurance money, they just weren't salvageable in the time frame we had to save items .
The whole incident gave us all a good scare, but ultimately no truly harmful damage was done which is why I think this incident has magickal origin.
Even the story about my dad scaring off a money grubbing leech while yelling kali and durga while drunk that I mentioned in my post asking for help with alcoholism happened near after this whole incident.
The number 3 sure did repeat a lot during this story huh?
I think the reason the water spirits worked so hard is that there must have been a lot of them near the rural ex-farmlards and swamp. Most people only worship hindu/christian deities and local land spirits must have gone neglected by humans for a long time since the days of the amerindian tribes who worshiped the zemis and nature, so I think my petition was their first in years.
I'd like to hear what everyone thinks because quarantine has weakened my sanity and I dont want to be one of those quacks that thinks everything in their life has a magickal reasoning