I will get the successes with King Paimon out of the way first, he does exactly what is in his office, that is, bending people to the will of the magician.
Monday came along, and unfortunately work is quiet at the moment, I was the unlucky one who was left with no jobs assigned as they had been assigned to my colleagues first, which meant that I was doomed to spend the entire day cleaning up after my colleagues and doing pointless inductions for other businesses.
I called upon King Paimon and asked him to get me sent home, rather than do nothing productive at work, I'd rather do nothing productive in the comfort of my own house - with a promise of an offering when I got home, of course.
Low and behold, 10:30AM (6 hours prior to my day supposed to be finishing) arrives and my direct supervisor decides that it's not worth my time being at work, and that I'd get back into it tomorrow and sent me home.
I went home and offered King Paimon some wine, and left it on my altar for him. (This is where the strange experience happens - but I'll get to that after my thanks to King Paimon).
This morning, I get to work and am informed that I am supposed to be working with someone I thoroughly HATE working with. I arrive at my job site and am waiting in the car for this colleague to turn up - so I decide to bring up King Paimons sigil and give something another whirl today - that being stopping me working with this colleague, again in exchange for some offerings.
Low and behold, half an hour later, I'm still waiting there and he is no where to be seen, so I called my office and asked what was going on - when I was informed that I should head back to home base.
I get back to the office and find that I won't be working with this colleague at all today. This is a massive surprise - this almost never happens, generally the schedule is set in stone and doesn't budge. I was then assigned to work with a colleague I enjoy working with for the rest of the day.
Again, these are not major successes, however they are successes none the less in which I genuinely believe these wouldn't have occurred without King Paimons help.
Use King Paimon! He works, and fast.
Now onto my next story,
As I previously stated - I left King Paimon an offering on my altar and, when I went into my ritual room/space tonight, I looked into my little offering cup and found that something I had lost a few weeks prior had miraculously ended up in the cup, in the wine. I've never had entities move things on me, so for me, this is odd.
Anyway, here are some images.
I have a black silky style see-through door curtain that I place behind the door of my ritual area which is held up by two black pins. I had lost one of these pins a few weeks prior due to me opening the door too quickly and it ripping off.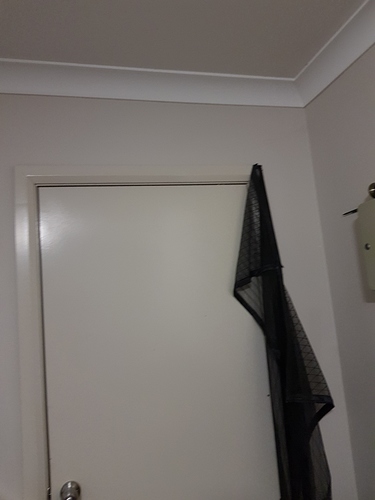 And here is an image of the 'pin' randomly in the cup
For those more experienced than me, could this mean something? Is this some sort of omen?
Thanks in advance.